Member Spotlight
Member Spotlight: CancerBridge
January 13th, 2022
Member Spotlight by CancerBridge
Provide us with a brief summary of your business' services
CancerBridge is a personalized cancer support service that provides access to oncology specialists that listen and provide guidance regarding cancer questions and concerns. We offer employee education opportunities related to cancer prevention and screening to promote health and wellness. Our oncology certified nurses provide one-to-one support throughout a person's cancer experience. 
Due to the prevalence and complexity of cancer, we are an essential benefit service that reduces access barriers to world-renowned NCI-designated cancer care. The National Cancer Institute (NCI) is the highest federal rating a cancer center can achieve. It's the gold standard for cancer programs and is bestowed upon the nation's top cancer centers in recognition of their innovative research and leading-edge treatments. Through our expert advice, education, and ongoing support, employees can gain confidence and the assurance needed to make informed decisions regarding their cancer experience.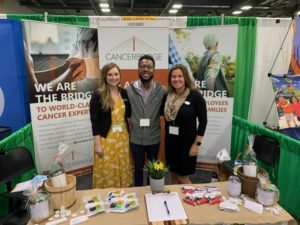 Tell us about your company's mission and values
At CancerBridge, our mission is to support our partners and their employees with full access to world-class cancer care at the nearest National Cancer Institute Designated Comprehensive Cancer Center. CancerBridge provides personalized support programs focused on cancer prevention, education, and the importance of early detection screenings. Should your employees receive a cancer diagnosis, we are here to guide and support them through their experience. Our core values are: 
These values embody all that we do each day for our partners and their employees. 
What are the services you use the most (or are looking forward to using) from the Columbus Chamber?
We are excited about the opportunity to build local connections and to learn more about business solution partnerships with the Columbus Chamber. At CancerBridge, we value meaningful relationships and understand the importance of building a local network base to advance our mission and vision. 
How do you stay engaged with trends that you see in your industry?
We invest time. Our company understands that cancer is personal and complex. One commonality between cancer and market trends is that both are constantly evolving. From a business perspective, we invest time in research by frequently visiting our competitor's websites, and conducting internal analysis of processes and evaluating data collected in our CRM software. From an education perspective, our oncology certified nurses participate in continuing education to keep current on cancer and other health-related trends. Our team remains involved with professional organizations that foster thought leadership.  
Most of all, we invest time to listen closely to our partners and their employees. 
What is your company culture like?
At CancerBridge, our culture is relationally driven – we understand that the internal (our team) impacts the external (our partners and their employees).  
A key aspect of who we are relies upon the diversity of our team members. We promote camaraderie by encouraging collaboration, transparency, independence, respect, and work-life harmony.  
From our technical skills to the way we individually think, we have an environment that fosters positive external relationships to bridge gaps in public health and build empathy among our partners, their employees, and our team. 
What does it take to be a successful employee at your company?
A key attribute of a successful employee at CancerBridge is flexibility. As our company continues to grow locally, regionally, and nationally, employees must be willing to adapt and change. The attribute is also important as we place emphasis on continuous improvement.  
What makes Columbus such a great place to do business?
Columbus and the rest of central Ohio is a great place to do business because of the family-oriented environment and wide-array of businesses and attractions. We're excited to operate in an area that has many great employers who share the same values of empathy for their employees and their families. Lucky for us we have the opportunity of directly supporting many of their employees. 
Social Media:
Twitter: twitter.com/mycancerbridge
LinkedIn: linkedin.com/company/cancerbridge/
Website: https://www.mycancerbridge.com/