Member Spotlight
Member Spotlight: Modula
August 13th, 2020
Provide us with a brief summary of your business' services.
Modula is one of the leading manufacturers of automated vertical storage solutions, designed to optimize space and improve picking and storage operations in any industrial sector or environment.
The Vertical Lift Module (VLM) utilizes the full ceiling height of a facility, thus maximizing the storage potential. Items are stored in units up to 53′ high, in a safe, secure environment and automatically delivered to the operator; avoiding unnecessary bending, walking and reaching for parts.
Thanks to the two American production sites (102,000 square feet in Lewiston, Maine and over 189.500 square feet in Franklin, Ohio) our company now has a production capacity of over 2,000 machines per year, and it is proudly the only manufacturer of this type of technology in the USA. To support the 25% year-over-year growth, we have over 140 employees and 65 authorized dealers.
Tell us about your company's mission and values.
Our Mission is to optimize the intralogistics of all businesses, regardless of their size or industry, by delivering the best automated storage solutions.
Our high-tech manufacturing standards reflect our commitment to innovation, allowing us to deliver value to our customers worldwide.
What are the services you use the most (or are looking forward to using) from the Columbus Chamber?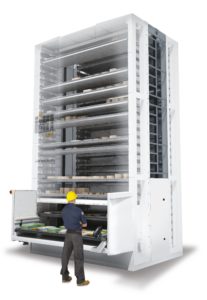 With the expansion of our US presence from Maine, and now including Ohio, we look forward to establishing a good network of partners, customers and suppliers. We value the help of associations like the Columbus Chamber, as we see the value and importance of their partnerships.
 How do you stay engaged with trends that you see in your industry?
As our Chairman, Franco Stefani, often says, we stay one step ahead by not only listening to the customers, but also by reacting and engineering ideas that bring concrete solutions. We do so in a way that ensures our customers are satisfied with both the solution, and the financial investment. We are known in the industry for being a partner, not a supplier.
What is your company culture like?
Although Modula is growing fast and quickly becoming a large multinational organization, we are still a privately owned company, with a Chairman who is personally involved and present in the management of the business. Furthermore, the Italian soul we have provides a concrete and family-oriented environment.
What does it take to be a successful employee at your company?
Our company is very technological in every department. But at the end of the day, it's all about the quality of people. The Modula employees are very passionate, extremely flexible, proactive and down to earth.
What makes Columbus such a great place to do business?
Modula is facing impressive growth worldwide at a pace of almost 25 percent year-over-year in the last five years, particularly in the North American market where we faced further acceleration in the last two years. After an accurate analysis, we chose Ohio because of the excellent logistical position, the great industrial presence and the high professionalism of many associations including the Columbus Chamber, who helped us throughout the entire process.
Social Media 
Twitter: https://twitter.com/ModulaUS
Facebook: https://www.facebook.com/ModulaUSA/
LinkedIn: https://www.linkedin.com/company/modulausa
YouTube: https://www.youtube.com/user/ModulaWorld
Website: www.modula.com