Member Spotlight
Member Spotlight: Medi Shield Solutions, LLC
January 14th, 2021
Member Spotlight by Dr Tokunbo Adelekan
Provide us with a brief summary of your business' services.
Medi Shield Solutions, LLC provides personal protective equipment, better known as PPE. We source face masks, hand sanitizers, gloves, gowns, etc. We are dedicated to providing businesses with essential protective medical supplies, equipment and clothing to create clean, safer environments community-wide.
Tell us about your company's mission and values.
At MEDI SHIELD, our mission is to help medical providers to procure the medical equipment and supplies that they need, timely and efficiently. More specifically, we integrate the following values: Vision, people perish with out it; Integrity, hence, our strong moral principles and commitment to provide our best in everything we do; Structure — understanding the importance of order which positively impacts delivery of our services; and Accountability, to adhere to our word and what's necessary to follow through for the desired outcome for all involved.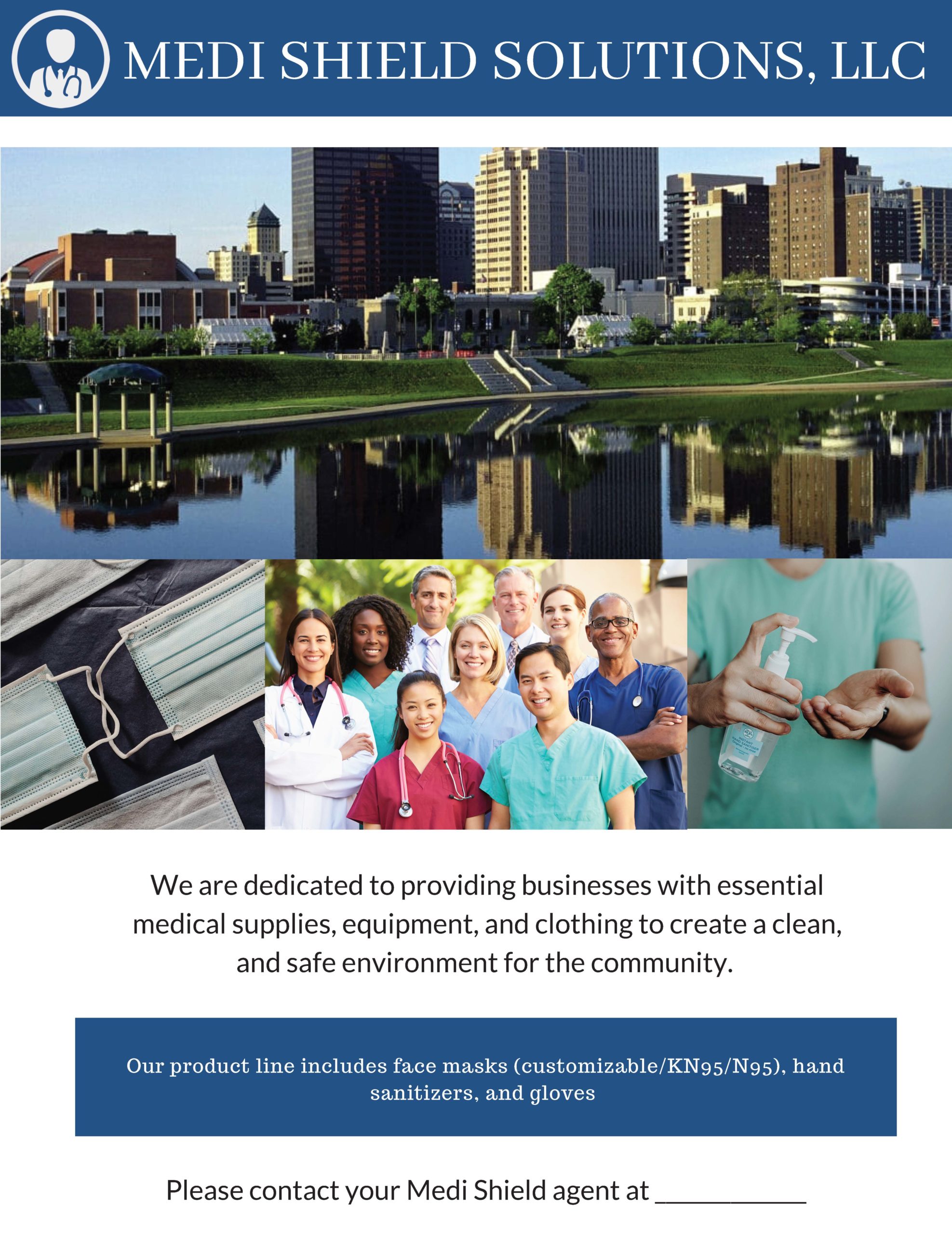 What are the services you use the most (or are looking forward to using) from the Columbus Chamber?
Membership with the Columbus Chamber not only yields an opportunity for Medi Shield to further build its brand and bandwidth by connecting with area entrepreneurs and principals, but we see opportunities to potentially serve and develop solutions with like minded business leaders alongside Chamber events. As newcomers to the Chamber, we were welcomed with open arms at recent Holiday Networking events and look forward to building meaningful relationships and answer pertinent questions in relation to the health initiatives at hand.
Please describe your company culture.
The company culture at Medi- Shield honors creative, constructive and compassionate individuals. Most times you can tell a lot about a company by its leadership. Medi Shield CEO, Dr Tokunbo Adelekan has a tireless work ethic. His proven commitment to the community is evidenced in his comprehensive work surrounding the Opioid Epidemic, the Governor's Heroin/Outreach Unit, the Dayton Tornado Relief Program and his efforts to bring together diverse groups of businesses and community leaders yielding peace initiatives to heal the city.
What defines a successful employee at your company?
A successful employee shows up ready to serve and give their best daily. Their attitude determines their altitude. They are confident and comfortable requesting support or training in order to meet goals and proposed strategies. They are solution-oriented, positive and encouraging as we deliver stellar service.
What makes Columbus such a great place to do business?
Expanding into Columbus expresses Dr Adelekan's passion to further extend quality services and products statewide. Building here ushers in a perfect collaboration with Columbus' many great businesses. Its diverse leaderships' missions to heed the needs of employers, employees, and their patrons, dovetails with Medi Shield's initiatives. We await the opportunity to provide guidance and resources amidst today's ever-changing safety risks and current health environment. Medi Shield also looks forward to developing durable bonds throughout the Columbus market.