Member Spotlight
Member Spotlight: Buckeye Interactive
December 13th, 2018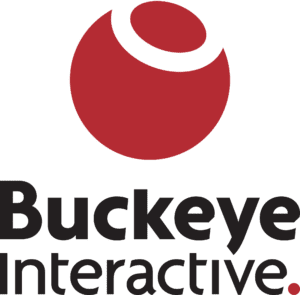 Member Spotlight by Brad Griffith, President of Buckeye Interactive
Provide us with a brief summary of your business' services.
Buckeye Interactive works at the intersection of software engineering, design, and digital strategy. We amplify the impact innovators have on our world by providing website and application development with ongoing optimization services that enable growth.
Tell us about your company's mission and values.
Mission:We believe in the power of entrepreneurship and innovation to drive meaningful change in our community. Through unparalleled access to exceptional web engineering and design, we amplify the impact these innovators have on our world.
Values: We lead with our core values: ingenuity, initiative, and collaboration. Doing so allows us to work tirelessly towards our mission.

ingenuity:We're resourceful and creative problem solvers. We work efficiently and with the purpose to create effective processes and products for our clients. We love what we do, and our hard work and passion drive us forward. We love startups and entrepreneurs.
initiative:  Each of us on the team is responsible for the quality of work we do and we take it upon ourselves to see solutions through to completion. We rarely have all of the information or resources we need at first, but we take initiative to find those resources, pursue the best possible path, and find a solution.
collaboration:Engineering, design, and strategy are not distinct disciplines at Buckeye Interactive—they are processes and tools used together to achieve the greatest results. We strive to develop a deep understanding of our clients' needs and aspirations and collaborate to deliver outcomes which add real value to our clients, projects, and the community as a whole.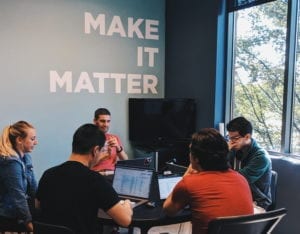 What are the services you use the most (or are looking forward to using) from the Columbus Chamber?
We are looking forward to connecting with leaders from many innovative businesses in the Columbus area. We will attend educational events, and we hope to contribute thought leadership to support the growth of other member businesses. The chamber's research and workforce development support are also welcome offerings that will help us make smart decisions as we grow our team and portfolio of clients
How do you stay engaged with trends that you see in your industry?
Our team is constantly reading blogs and listening to podcasts for design, development, and startup news, and we share what we learn with the team on Slack. We attend conferences including SXSW, Women in Digital, Future of Web Design, the Consumer Electronics Show (CES), and more. The best practices and innovative techniques we learn are brought back and applied to internal and client projects to test their efficacy before they're built into our standard processes for all clients. We also share our thought leadership through conference presentations and keynotes, and we gather stories from others through our executive peer groups. We pride ourselves on combining insights from highly varied experiences and education on our team to provide unique solutions to our clients.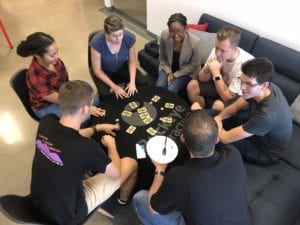 What is your company culture like?
We work hard and love what we do. Amidst all of the crazy found in a start-up culture, our goal is always to be productive and do great work for our clients. At Buckeye Interactive, you have the autonomy to direct the type of projects you want to work on while also having a direct impact on client projects. We pay attention to our team's health by providing daily catered lunches and making sure our fridge is always stocked. We also celebrate our wins regularly with office parties and lots of fun. Finally, we stay inspired by attending local conferences and professional development events in addition to a few national conferences. Let's just say SXSW sees our faces every year.
What does it take to be a successful employee at your company?
To be successful at Buckeye Interactive, we recommend embedding our company values in your everyday work. We have found that doing so allows every single employee to remain successful in their roles. Our team takes our work seriously while keeping a light-hearted attitude. We embrace unexpected challenges and thrive in a high-paced environment that enables us to deliver quickly for clients. We have a strong desire to do high-quality work without letting a drive for perfection prevent efficient completion of projects. We have to go beyond what our clients ask of us to understand why they're asking so that we can make great strategic recommendations. Detailed instructions are rarely provided to our team, but we build processes and improve them every day. We need hard-working innovators comfortable turning ambiguity into productivity for great client impact.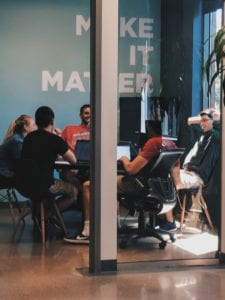 What makes Columbus such a great place to do business?
Recently, Columbus was named by Forbes as the top rising city for startups due to our unique value for families and business alike. The cost of doing business in Columbus is 2% lower than the national average.  With a robust start-up culture and VC deals increasing, Columbus has done a great job in retaining post-grad talent. Additionally, compared to the decline in many other Midwest cities, the working-age population in Columbus has grown by 9%. Finally, the cost of living in Columbus is relatively low – who wouldn't want a greater return on investment? We will continue investing in Columbus!
Social Media 
Twitter: @BuckeyeWebDev ; https://twitter.com/buckeyewebdev?lang=en&lang=en
Facebook: @BuckeyeInteractive ; https://www.facebook.com/BuckeyeInteractive/
LinkedIn: https://www.linkedin.com/company/buckeye-interactive/
Instagram: https://www.instagram.com/buckeyeinteractive/
Website: https://buckeyeinteractive.com/