Member Spotlight
Member Spotlight: VIP Supreme Staffing and VIP STNA Academy
March 16th, 2023
Member Spotlight by VIP Supreme Staffing and VIP STNA Academy

Provide us with a brief summary of your business' services
VIP Supreme Staffing was founded on the simple belief that everyone is entitled to quality care and respect. We make every effort to hire those that align with the same belief to deliver your loved ones with supreme care and comfort. We thrive to establish strong, meaningful relationships with the individuals we employ, care for, and the entities that need our services. We staff medical settings throughout the United States with Management, RN, LPN, and STNA personnel. VIP STNA Academy is a medical school that offers STNA and Medication Aide courses. We have different packages and options for individuals to complete their training and be able to sit for their State examination. We strive to provide an education and skills that will follow the students into the medical world.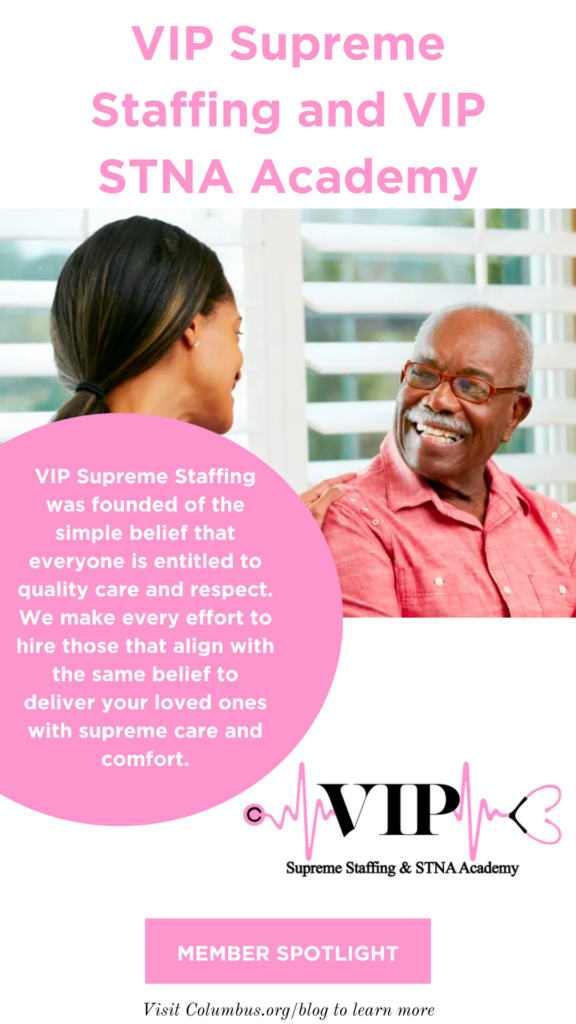 Tell us about your company's mission and values
VIP strives to provide professional, competent, and reliable staff to facilities who will assist residents achieve their highest level of potential. VIP also makes it a priority to provide staff who have flexibility and understanding of both the facility and resident's point of view with compassion for other human beings. Our mission is to provide each student a diverse education in Healthcare and provide the highest standard of teaching and learning opportunities to our future Healthcare workers. By creating and maintaining a safe and effective learning environment, we believe ideal academic and behavioral success can be reached. We strive to develop confident, continual learners who are caring community members through respect, responsibility, and safety.
What are the services you use the most (or are looking forward to using) from the Columbus Chamber?
Networking, medical/educational/staffing resources, and professional development and training.
How do you stay engaged with trends that you see in your industry?
Research the other businesses in our industry and feedback from staff and community resources.
What is your company culture like?
We strive to create a healthy and happy work culture, where employees feel valued and appreciated.
What does it take to be a successful employee at your company?
One that is engaged, accountable, reliable, and team player to help continue to build a successful company.
What makes Columbus such a great place to do business?
Columbus is a great place to do business in our industry due to the abundance of medical opportunities and facilities.
Social Media:
Facebook: www.facebook.com/VIPSupremeStaffing
LinkedIn: www.linkedin.com/company/vip-supreme-staffing-and-home-healthcare
Instagram: www.instagram.com/vipsupremestaffing_
Website: vipsupremestaffing.com