Member Spotlight
Member Spotlight: EOS (The Entrepreneurial Operating System®)
June 15th, 2023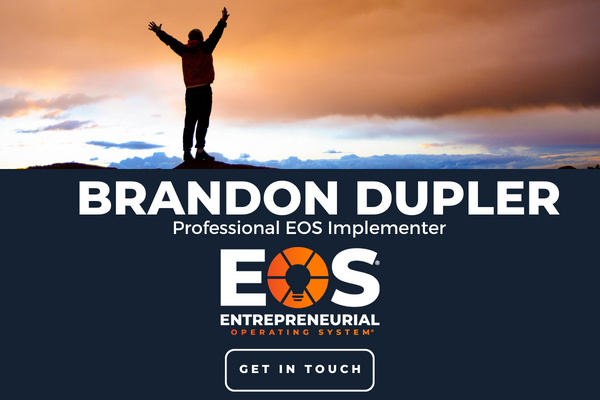 Member Spotlight by Brandon Dupler, Professional Implementer at EOS.
Provide us with a brief summary of your business' services
As a Professional EOS implementer, I provide a simple, proven entrepreneurial process that helps companies get better at three things – VISION, TRACTION and HEALTHY. Organizations running on EOS find that everyone is on the same page with where the company is going and exactly how it is going to get there, all while keeping everyone in their organization accountable.
EOS enables all of us to do what we love, with people we love, making a huge difference in the world. We get compensated for it all the while having time to pursue other passions.
Tell us about your company's mission and values
My core purpose is to help each person I connect with be better everyday.
Our core values are:
1. Help First!
2. DO the right thing, always
3. Grow or die!
4. Be humbly confident and abundance-minded
What are the services you use the most (or are looking forward to using) from the Columbus Chamber?
Connecting to our local business community through events, learning opportunities, SBA, CRLC and so many amazing resources available to our business.
How do you stay engaged with trends that you see in your industry?
Read! Read! Read! A lot continues to evolve in the entrepreneurial segment. Being able to help all types of businesses be their best requires a continuous commitment to learning and being curious all the time.
What is your company culture like?
Open + Honest
Clarity
Vulnerable
Humble
What does it take to be a successful employee at your company?
Simply living our core values each and every day.
What makes Columbus such a great place to do business?
Columbus has an amazing entrepreneurial community as well as a friendly business community all around. Columbus offers a great place to start a business, grow a business, and thrive as a business.
Social Media:
LinkedIn: https://www.linkedin.com/in/brandondupler/
Website: https://www.eosworldwide.com/brandon-dupler#
Facebook: https://www.facebook.com/eosworldwide/
Twitter: https://twitter.com/EOSWorldwide
Instagram: https://www.instagram.com/entrepreneurialoperatingsystem/