Member Spotlight
Member Spotlight: Kiddie Academy
March 5th, 2020
Member Spotlight by Brittany Witkowski, Academy Director
Provide us with a brief summary of your business' services.
Kiddie Academy of Downtown Columbus is educational childcare caring for newborns through Pre-K students. We offer several amenities that are included in tuition that most other childcare centers are unable to offer such as co-working, parenting suites, yoga studio, meals, art studio, library and technology center, an I-Beam, 2 story indoor playground and more!
Every day your child's imagination grows and their curiosity gathers momentum—Kiddie Academy of Downtown Columbus empowers and celebrates all of it.
Our Life Essentials® learning approach and curriculum encourages children to explore and progress in their own way, and at their own pace. At Kiddie Academy of Downtown Columbus, your child will grow socially, physically, emotionally and intellectually. Our highly trained teachers are there every step of the way to guide, nurture and cultivate your child's development.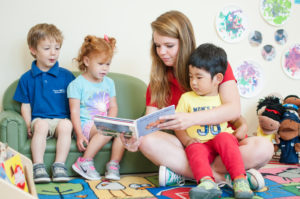 Why do you think Downtown Columbus is a great place for childcare?
Whether you live or work near Downtown, Kiddie Academy is very conveniently located next to the COTA Administrative building and behind the Leveque parking garage. We have a small parking lot behind our academy for pick-up and drop-off as well as multiple COTA bus stops a few steps away!
Kiddie Academy of Downtown Columbus encourages parents and teachers to be in constant communication through daily reports, close proximity, and an open-door policy.
Parents receive an electronic daily report every day which includes pictures, the lesson plans, and meals.
For enrolled families using our co-working space, you have the ability to stop by your child's room at any time throughout the day or have one-on-one lunch in one of our parenting suites.
By choosing childcare closer to your work, you are now able to spend more time with your children and bond on your ride to/from the academy. Your worries about picking your children up on time are greatly reduced because you are now minutes away instead of your long commute which is full of rush-hour traffic.
What are your educational core beliefs?
At Kiddie Academy of Downtown Columbus, we have 9 core educational beliefs. Here are a few, find the others listed on our website under the 'Approach to Childcare' tab:
Safety and Security: We put all of our attention and technology into ensuring the highest level of safety and security.
Learning through Play: Children learn with their whole bodies, exploring their surroundings freely, communicating about what they're learning and discovering how to relate to others.
Developmentally Appropriate Classrooms: Teachers build materials and experiences around individual learning rates and styles- nurturing each child's growth and development.
Positive Guidance: Teachers encourage children to challenge themselves through supportive language.
How do I find out more information?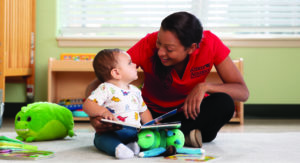 Choosing the right care for your child is a serious decision, and we want you to feel confident every step of the way—from your initial visit to enrollment to the first day of school and every day after that.
It begins with scheduling a tour. During your visit, you'll get a real feel for how we nurture and engage with the children in our care. Come see how we bring our learning philosophy and curriculum to life.
Social Media
Facebook: https://www.facebook.com/KiddieAcademyofDowntownColumbus/
Instagram: @kadowntowncolumbus
Website: https://kiddieacademy.com/academies/downtown-columbus/