Member Spotlight
Member Spotlight: Gryphon Financial Partners
April 29th, 2020
Member Spotlight by Judy Roseberry, Gryphon Financial Partners
Provide us with a brief summary of your business' services.
As a comprehensive wealth management firm, we safeguard and protect personal wealth, retirement assets and business equity. We do this by offering a full range of services — from strategic asset allocation and detailed cash flow planning to tax efficient wealth transfer strategies and private investment opportunities.
Tell us about your company's mission and values.
At Gryphon Financial Partners, our mission is to provide our clients with advice that is delivered from a perspective of independence — one that ensures full objectivity and remains free of conflicts of interest. Our advice is also highly customized to the needs of the individuals and families we serve. That level of customization is critical to how we carry out our mission: assisting clients in achieving their life's goals by performing in accordance with our beliefs at all times. It is our fundamental belief that success comes from doing the right things, in the right way, for our clients…every time.
Values:
Pursuit of Excellence
Integrity
Innovation
Honesty and Candor
Collaboration
Work Ethic
Learn and Grow
What are the services you use the most (or are looking forward to using) from the Columbus Chamber?
Networking events – get to meet other great businesses in Central Ohio.
Access to research and facts as needed for presentation and reports. I.E. small business facts, baby boomer statistics, etc.
Thought leadership articles
Resources to help us with hiring
Cbuzz – listen to business leaders and learn from them as well as share our story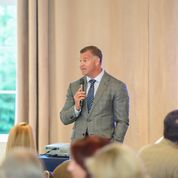 How do you stay engaged with trends that you see in your industry?
Being around for over 20 years has provided us with a very deep network, contacts and resources such Fortune 500 CEOs, Managing Partners of law firms and CPA firms and many other Advisors and Leaders. We are fortunate to have these resources.
As for the financial services industry specifically, our Investment Committee (made up of our Partners, key employees, an institutional investment company we hired, select clients, and other advisors) meets quarterly to keep on top of key trends, the economy, and of course investment strategies and allocations.
What is your company culture like?
With a large percentage of our team being together for over 20 years, we truly are a family. We respect each other. We trust each other. We are loyal to each other. We do whatever it takes to help each other and be a good teammate.
What does it take to be a successful employee at your company?
Being a successful employee at Gryphon Financial Partners is all about being a good teammate. Patrick Lencioni wrote a book called "The Ideal Team Player." We use this book as a guideline on how we work together and is a must read for all new employees. The book (and Gryphon Financial Partners) describes a good teammate and successful employee as someone with these three virtues:
Humble – Great teammates lack excessive ego or concerns about status.
Hungry – Great teammates are always looking for more to do, more to learn and more responsibility to take on.
People Smart – Great teammates have the ability to be interpersonally appropriate and aware of their co-workers.
What makes Columbus such a great place to do business?
Columbus is growing!
According to a WSJ Nov 2019 article, Columbus is the fastest-growing urban area in the Midwest. It also has been expanding physically, adding annexed areas to the city and surrounding suburbs
Great list of large employers with job growth
Ohio State University with more graduates staying put in Columbus
Columbus real estate market is among the hottest in the nation
The people of Central Ohio and their Midwest Values
Social Media 
LinkedIn: https://www.linkedin.com/company/gryphon-financial-partners/
Website: www.gryphonfp.com