Staff Insights
Workforce Report | Reflection and Reimagining Work
December 9th, 2021
In the last 20 months, we have experienced a global pandemic, social unrest, supply shortages, and uncertainty; combining to create collective exhaustion across our workforce and workplaces. We are living through a period of rapid and accelerated change in our personal and professional lives. If we have learned anything during this upheaval, it is that change happens whether we are prepared to embrace it or not.
Looking back to March 2020 until now, it is clear that the impact of such wholesale change has created a new workplace landscape. Employers across all industry sectors are seeing workers leave in record numbers. Whether we label this the Great Resignation or the Great Attrition, it is clear that the workforce is sending a message. A recent McKinsey study reveals that employees are seeking workplaces that treat them as individuals where leadership expresses their appreciation and values their work.
If we assume that change is always present and accept our own ability to adapt as a learning opportunity, what can we do differently to attract and retain people? What are the lessons along the way?
Let's take a look at 3 potential areas where we can exercise our adaptability muscles:
Work/Life Balance for All
Building Trust Across the Organization
Transformational vs. Transactional Leadership
Work/Life Balance for All
How we meet our work and family commitments without encroaching on either is one determinant of work/life balance. What makes an environment conducive to supporting such a balance? Consider the following:
Survey your team! It is almost impossible to provide solutions if you don't truly understand the problems.
Ask your employees how they feel about the number of hours worked, schedules, childcare issues and determine if adjustments can be made to accommodate. Flexible work schedules and locations can support the overall attraction, retention, and productivity of your workforce.
Equip and educate your team with resources and tools to help them grow! Offer webinars, presentations, and online resources that promote healthy work/life balance.
Lead by example by taking time to rejuvenate and relax, as well. Take vacation and PTO to truly unplug and focus on our health and wellness. Set guidelines around when and how you will respond to email and text communication.
Remember, promoting a healthy work/life balance shows employees that you not only value them as contributors to the work but that you see them as people who have lives and commitments outside the workplace.
Building Trust Across the Organization
Creating a workplace that fosters and encourages mutual trust can be a challenge. What do effective leaders do to build this type of environment? Workers need to believe that their leadership teams are competent, compassionate, communicative, and committed to doing what is right.
Treat people fairly and with respect. Include more of your work team in decision-making, as appropriate, and provide consistent messaging among associates.
Be transparent, especially during times of great change and uncertainty. This helps people understand the rationale behind decisions and directives that have been made.
Connect their work to the overall company goals and objectives. Provide a clear picture of how the work they do adds to the health and vitality of the organization.
Transformational vs. Transactional Leadership
Leaders who focus on the overall health and wellness of their workforce and establish environments that build trust are truly moving toward a more transformational workplace. These leaders are creating workspaces that help the individuals and the company benefit by changing the perspective from one that is purely transactional.
Roll up your sleeves! Years ago, I worked in Chicago for a large financial services company. As a corporate trainer, one of my duties was to create and deliver content at our annual sales conference to an audience of 450+ sales and service representatives from around the country. This was always quite the undertaking and in 1990 as a new mother to an infant, one that had the potential to overwhelm me. My direct supervisor recognized my struggle and immediately pitched in to pick up the slack and sat with me as we collaborated on getting the task completed.
Celebrate successes and acknowledge good work! Whether a handwritten note, a mass email, or a party, let your team know they are valued and their work matters to you and the organization!
Consider incorporating one on ones with team members or off-site retreats for your leadership team. When faced with complex change, create an "all hands" open discussion that allows time for deeper dives into corporate decisions and direction. It also gives space for individuals to be heard and recognized.
As we prepare to say "goodbye" to 2021 and "hello" to 2022, let us stay agile and prepare for an ever-changing world and workplace.
Stay safe.
Be well.
And be good to one another.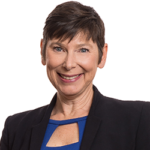 Kelly Fuller Vice President of Talent & Workforce Development KellyFuller@columbus.org