Chamber News
Workforce Report | A Winning Game Plan
October 21st, 2021
A Winning Game Plan
Living in Central Ohio in the fall can mean welcoming the colorful array of autumn leaves, visiting pumpkin patches and enjoying cider slushies, AND cheering on your favorite football team. As a Midwesterner, I am certain that parts of my DNA are stitched together with white laces and brown leather. So, game plans have been on my mind a lot lately, as I don the red and white each Saturday (sorry, Buckeye Nation. I am a Miami Ohio fan). 
What does football have to do with the current state of the workforce and how businesses can create their winning strategy to score talent for their organizations? Let's tackle this issue and look more deeply at four areas. Depending on your company/industry, I encourage you to review the following:
Workplace flexibility

Underutilized talent pipelines

Job postings that focus on the job seeker

Reducing the time between interview/offer/onboarding
Flexibility/ Let's Get "Phygital" 
The term "flexibility" is not definitive on its own and can be implemented differently depending on role, department, corporation, or industry. To some, it describes the location of where work activity takes place: office or worksite, remotely, or some type of hybrid model, bridging multiple options. In industries where onsite participation is necessary (production lines in a distribution center, for example), offering a remote option is not feasible. Changes in schedule and job sharing solutions may be ways to offer both employee benefits and meet desired corporate outcomes. Watch for more companies to continue hybrid workplace solutions through a combination of physical and digital modes; "phygital" workplaces are here to stay for the foreseeable future.
Talent Pipelines/Team Roster
Putting together a strong lineup has long been a key winning strategy on the field and in the headquarter office. When visiting the same programs is no longer working, talent scouts explore new and untapped sources for the next star recruit. 
Many of our member businesses have had great success in the last 18 months through connections to our refugee and immigrant population; high school students in upper grades; adults with varying abilities; and our fellow Ohioans who have interaction with the criminal justice system. These 4 talent pipelines represent hundreds of thousands of potential contributors and most all come with the added layer of wrap-around services through the agencies and schools that serve them.
Job postings/JumboTron
How we share information about our workplaces with job seekers is just as important as how we share our products and services with our end-user customers. In today's crowded backfield, it is critical to stand out as an employer of choice and consider the job/company that you are "selling". 
One quick reminder: a job posting is not the same as a job description. A posting is an advertisement designed to stimulate interest and curiosity about the role and your company. It is an external piece of collateral focusing on the desires and needs of the applicant.
The job description, on the other hand, is an internal document created to summarize qualifications, responsibilities, reporting structure, and possible career pathways. In short, the description can afford to be lengthy and boring…the job posting should be neither. It is good practice to review both regularly to ensure that they are reflective of the job, the environment, and the culture. 
Timeline
/
Using the Clock
In our current market, it is important to note that applicants you are interviewing today are most likely applying for roles with other companies. This wider job search can present obstacles, as you are battling for talent and the clock. Candidates are keeping their options open until they have received an offer of employment. The time between interview and offer is often taking so long many qualified candidates tire of waiting and accepting employment elsewhere. Shortening and tightening the timeline is one way to get a competitive advantage and land your new all-star team member. If the timeline cannot be shortened, then expectations must be set accordingly and regular contact must be kept with the candidate to ensure engagement stays high. 
Join us next month, as we visit with Chamber members who are utilizing all or some of the four tactics for becoming an employer of choice. We will highlight better practices and how your organization can make it across the goal line now and in 2022!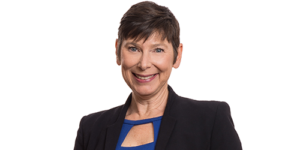 Kelly Fuller
Vice President of Talent & Workforce Development