Member Spotlight
Member Spotlight: Pixel Park
May 5th, 2020
Member Spotlight by Matt Hoelter, Owner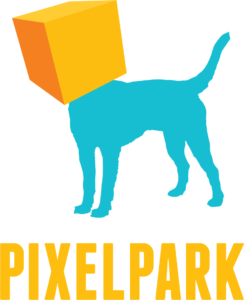 Provide us with a brief summary of your business' services.
Pixel Park is a creative design and animation studio that works to communicate our partners' messages through strategic, engaging visual stories.
We collaborate with our partners to identify what motion medium suits their project best – whether that's 2D/3D animation, live action, or a combination of both. Intention, focus, collaboration and strong execution are what our projects are made of.
Tell us about your company's mission and values.
Pixel Park is the premiere design and animation studio in the Midwest serving clients across multiple industries, with a focus on direct clients. We stand apart from our competition with our high level of art direction, top-tier artists, in-house sound/music capabilities and a focus on design and technology trends. Pixel Park brings back the sense of magic that we reminisce about from our childhood through our creativity and our culture.
We do this by exceeding expectations with our clients over and over, by delivering exceptionally high quality content on-time, on-budget, ego-free and the perfect balance of the client's vision and Pixel Park's creativity. We will cultivate a positive work environment where we provide creative freedom for our team and allow them space to flourish. Our friendly and warm nature is recognized and appreciated by our clients upon our very first interactions, and then our work blows them away.
Our core values:
– Honesty: admitting the mistakes, not blaming others, and following company rules
– Strong work ethic: Hiring employees that know how to work hard and that environment is encouraged // going above and beyond
– Teamwork: Our team works together toward a common goal, and stepping in when teammates are in a bind.
– Not clique-y: Our team is inclusive and does not discriminate against other teammates based on job title, age, gender, etc
– Helpful and caring: treating others with respect despite stressful circumstances
– Empathy and humanity: Thinking outside of the walls of Pixel Park, and doing good for our community and our planet
– Genuine: Sticking to your word. Making sure you're not just saying what people want to hear, be authentic.
– Strong, positive culture: Putting people first, building a healthy environment, trusting my team with ownership, attracting talented artists and giving them space to run while keeping a relaxed light-hearted atmosphere.
What are the services you use the most (or are looking forward to using) from the Columbus Chamber?
– In 2019, we took advantage of the COSE MEWA program to offer health benefits for the first time. This was a huge step forward for Pixel Park and one I'm really proud of.
– We connect regularly with our designated Chamber contact to strategically pursue potential new clients.
– I have been on the Small Business Council since January 2018 and it's been a wonderful learning experience for me. Everything from learning holistically what the Chamber does to the awesome things the city of Columbus does to support small businesses in our community. It's also been great to meet other peers in the small business space.
– We are looking forward to adding a retirement plan to our benefits here at Pixel Park and plan to work through the Chamber to get this in place.
– Myself and my team have attended numerous events since we first became Chamber members. We've heard lots of amazing speakers and networked with a vast amount of amazing folks.
How do you stay engaged with trends that you see in your industry?
Staying engaged with trends in our industry is huge. But we actually take it one step further—we strive to be the trendsetters. And I feel strongly that we are.
This is mostly done with a culture that allows creative freedom at the maximum potential. My philosophy is always been to hire amazing people and then give them the space to be their best. I am constantly analyzing how we can support our team to make them the best they can be. This could be a subscription to a new online learning tool, a comfort like a standing desk or special pair of headphones, being sent to a conference, or making sure their stress levels are in check—working hard to avoid evenings and weekends at all cost.
On a more tactical level, we always kick each week off with inspiration at our all-team meeting. Everyone in the company is encouraged to add to the queue any sort of video they've found and liked, and then want to share with the team.
We also encourage our team to search for inspiration in different places. If you're hitting a block, go for a walk, duck into a bookstore and flip through some magazines, etc. Inspiration can be found anywhere if your eyes are open!
What is your company culture like?
The core of Pixel Park is a culture we are very proud of. We strive to make it the best possible work environment we can. Our team is extremely hard-working and motivated, so we simply give them as much room to play and grow as we possibly can.
As Pixel Park has grown, we've had the luxury of choosing not to work with folks that don't treat our team with respect. We exude kindness and expect the same in return. Because of this, we feel strongly we have the best clients in the world and share a mutual respect for each other.
We protect our team from working long hours. Our work day is 9-5:30 with a 30-minute lunch, and we work hard to make sure our team only stays late when absolutely necessary. We choose to pay overtime if a workweek exceeds 50 hours or if ANY work is done on the weekends.
It's important to me that Pixel Park has a sense of magic in the studio. From our funky décor to fun team outings, we try to make this a place people genuinely want to be and look forward to what fun thing we pull out of a hat next. Every spring, we take a "fun day" to travel around Columbus and simply have a good time; a sporting event, bowling, an escape room, TopGolf, lots of good food, etc. Every fall, we do a team retreat in Hocking Hills to get away from the daily routines and enjoy each other in a relaxed atmosphere, playing games, strategizing our company's next big move, and handing out awards.
What does it take to be a successful employee at your company?
The doors are wide open for any and every employee to be successful and become a rockstar here at Pixel Park. As a group, we strongly encourage our team to speak up and take action if you feel that improvements can be made to a project or Pixel Park as a whole. Anyone can bring ideas to the table, and the team is incredibly responsive to ways we can always be improving. On a tactical level, a successful employee is honest and trustworthy, a good team player, and maximizes their potential every day. We hire incredibly talented folks and then work hard to give them space to be their very best.
What makes Columbus such a great place to do business?
The city of Columbus has been amazing fertile ground for us to grow Pixel Park. From tax breaks to reasonable studio rent, Columbus small business is booming and these incentives really make a difference. We have an incredible pool of artists that we connect with at CCAD. While some artists leave for other cities, Columbus does an amazing job retaining talent that we use frequently on a contract basis. Columbus is also home to so many of our amazing clients—Nationwide, Worthington Industries, Safelite, OSU, Grange, Big Lots— and we are so fortunate to work with really great individuals at these places.
Social Media
Facebook: facebook.com/ThePixelPark
LinkedIn: linkedin.com/company/pixel-park
Instagram: instagram.com/thepixelpark
Website: thepixelpark.com