Member Spotlight
Member Spotlight: Messer Construction Co.
October 14th, 2021
Member Spotlight by Erin Thompson, Vice President, Messer Construction Co.
Provide us with a brief summary of your business' services

Messer is a local builder with national expertise and an 89-year history of leading complex commercial construction projects. Our main focus is building relationships so we can deliver the best results for our customers and business partners.
Our market segment expertise includes health care, higher education, science and technology, industrial, federal/military and aviation, as well as mixed-use developments, performing arts venues, public/government and nonprofit buildings, athletic stadiums and senior living communities.We are builders at heart, with a professional craft force that lives right here in the Columbus region, so consistently high-quality self-performance is an integral part of our company. We also offer preconstruction, estimating/budgeting, commissioning, MEP coordination, equipment rental, and virtual design and construction services.
Tell us about your company's mission and values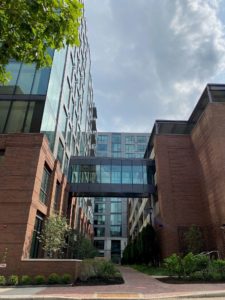 Our purpose is to build better lives for our customers, communities and each other. We are committed to a Zero Injury culture, professional performance, ethical business practices, diversity and inclusion, and providing an environment where individual growth is the basis for company growth.
What are the services you use the most (or are looking forward to using) from the Columbus Chamber?
We enjoy the ongoing opportunities to network with our peers and meet company leaders who are shaping the future of Columbus.
How do you stay engaged with trends that you see in your industry?

We are fortunate to have a diverse team of senior operations leaders who keep a pulse on industry trends through their involvement in industry groups, corporate committees and communication throughout the group. Additionally, Messer has in-house expertise through our cost planning and estimating department. This team is able to stay on top of market conditions, materials and pricing, and has historical data to help us make informed decisions.
What is your company culture like?
The fact that we're employee-owned is at the core of our company culture. Every employee is empowered to make decisions, to ask questions and to be financial stewards, as well as to help others—from clients to subcontractors to colleagues—make informed decisions. It truly guides how our teams lead projects and how we collaborate with our business partners.
That sense of belonging and accountability goes beyond a job title, and it ties into our commitment to a Zero Injury culture. No job, task or schedule is more important than the health and safety of people on or near our jobsites
We are also passionate about continuous improvement; there's always room to learn and grow so we can operate efficiently and build with lean principles.
Finally, community involvement and economic inclusion are championed from the top down. We give corporately and we welcome employees to volunteer and donate to the organizations that mean the most to them. In terms of supplier and workforce diversity, creating opportunities for diverse businesses and individuals ultimately makes our communities stronger. We're proud to be part of that sustainable, pivotal change.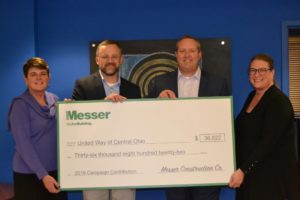 What does it take to be a successful employee at your company?

To be successful at Messer, employee-owners say yes to growth opportunities, carry themselves in a professional manner, and live out our Messer values every day.
What makes Columbus such a great place to do business?

Columbus is ever-changing, which creates continuous opportunities for employee-owned companies like Messer to grow. The passion and energy Columbus contains has been a catalyst for this city. We are fortunate to work in a city with so many industry leaders and look forward to being part of the future of Columbus.
Social Media:
Twitter: https://twitter.com/messerwearebldg
Facebook: https://www.facebook.com/messerwearebldg
LinkedIn: https://www.linkedin.com/company/47158/admin/
Instagram: https://www.instagram.com/messerwearebldg/
Website: https://www.messer.com/