Member Spotlight
Member Spotlight: Makers Social
September 14th, 2023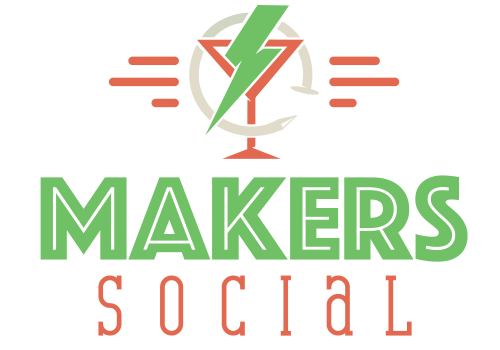 Member Spotlight by Makers Social.
Provide us with a brief summary of your business' services
Makers Social is an interactive bar experience where locals choose from dozens of DIY craft projects from jewelry-making to leatherwork, and even woodworking! Guests will create their very own unique projects while enjoying a few tasty beverages. We'll provide step-by-step instructions along with supplies & tools, as our crafty project leaders assist along the way. Spend quality time with your friends at our messy workbench tables, or make a reservation for one, and unwind here after a long week. All skill levels are welcome, and all projects are beginner-friendly.
Tell us about your company's mission and values
The Makers Social mission is to foster a space where everyone belongs, no matter their skill level in "making". We've built a space where all personalities connect, create, and laugh together in pursuit of the "Makers Spirit". We pride ourselves on being the only creative DIY project bar in Columbus, and we hire passionate, inspiring leaders to bring this vision to life and uphold these exact values of inclusion, inspiration, and recognition for our guests.
What are the services you use the most (or are looking forward to using) from the Columbus Chamber?
Team Building Events
How do you stay engaged with trends that you see in your industry?
We update our DIY project menu twice per year to reflect new trends within home decor and personal styling. Many of our projects are decorative pieces guests display in their homes, such as drink coasters, concrete succulent planters, charcuterie boards, seasonal wreaths, etc. We modify these projects with the times, as trends are always changing! We strive to make sure that everyone leaves with a project they actually want to display in their home or use on the daily.
What is your company culture like?
We are an uplifting workplace where toxic behavior is never tolerated. Over my past 9 years in small business, I've learned the 4 behaviors that can bring an entire team down (causing the top-performing employees to quit): gossiping, griping, grudge-holding, and greediness. When these are eliminated (among other toxic behaviors), the uplifting, kind, genuine, honest employees are able to truly thrive. In order to maintain a healthy, thriving company culture, the toxic behavior must be eliminated first. Then, those top-performing employees naturally have the support and atmosphere to bring their best selves to work! An average healthy work shift then involves each employee sharing their "happy and crappy" of their day, asking for genuine life updates, and showing empathy & interest in each other's lives.
This results in collaborative teamwork naturally falling into play. My company culture is maintained by those employees, and it's always up to the leaders to maintain open communication with all of the staff for the type of feedback they're hesitant to bring up. When an employee is hesitant to bring up an issue, that's typically a sign of vital feedback. Our anonymous feedback channel is our number 1 tool to maintain this healthy culture and allow everyone an opportunity to speak up.
What does it take to be a successful employee at your company?
A successful employee at Makers Social is one with the "party host" personality, welcoming all guests with the same warm enthusiasm as if hosting a party in their own home. Taking this level of ownership of the space requires our employees to maintain not only confidence in greeting all guests, but also offering reassurance and assistance with their DIY projects whenever roadblocks arrive. A successful employee will assure that every guest leaves with a project they're proud to display (or use), with the same mentality of assuring every guest at a house party has something delicious to eat and drink.
What makes Columbus such a great place to do business?
The reason I moved to Columbus to start my first business in 2014 was because I saw how supportive it was for small businesses. I knew that I could build a business on word-of-mouth advertising here, and that's why it's still such a wonderful place to do business 9 years later. If I could go back in time, I would choose Columbus all over again!
Social Media:
Facebook: https://www.facebook.com/makerscolumbus
Instagram: http://www.instagram.com/makers.social
LinkedIn: https://www.linkedin.com/in/megpando/
Website: http://www.makerssocial.com