Member Spotlight
Member Spotlight: CASTO
November 13th, 2019

Member Spotlight by Nikki Fisher, CASTO
Provide us with a brief summary of your business' services.
CASTO is a privately held, fully integrated real estate services firm dedicated to maintaining the highest standards of client service. With over 90 years of successful development and management of commercial and residential real estate, we continue to utilize our core competencies, market strengths and competitive advantages in ways that produce substantial returns, both financial and non-financial, for our clients, investors, partners and the communities in which our projects are located. We are a team of more than 270 associates who bring diverse talents, perspectives and experience to the CASTO name and believe that the best efforts are rewarded with the best results.
Tell us about your company's mission and values.
CASTO's mission is to provide expert services that create value for our customers, our associates, our owners and the communities that we serve.We value integrity, creativity and collaboration. People are our most important asset! We are committed to the well-being of our associates and endorse principles of diversity, tolerance and individual dignity.Integrity in our employees is essential to promote our long-term viability as an enterprise.  Doing what is right and not just what is easy, providesthe medium through which we can achieve our personal and organizational goals.We question convention! We are always looking for creative and better solutions for our customers and owners. Our constant and passionate pursuit of value innovation strategies distinguishes us from our competition.We cultivate the informed collaboration of committed associates with diverse perspectives, experience and talents in a teamwork environment. This creates synergies, which enhance productivity and profitability.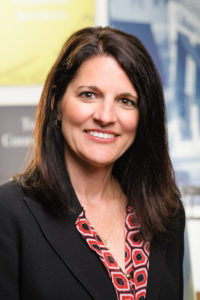 What are the services you use the most (or are looking forward to using) from the Columbus Chamber?
CASTO has been a member of the Columbus Chamber since 1933, our membership is very valuable to our organization! The Retail Summit is a great event for our associates. This year we are proud to have one of our Partners, Linda Swearingen, be a part of a retail panel discussion.
How do you stay engaged with trends that you see in your industry?
Our industry, the retail industry, is evolving every day. The number one trend to staying engaged and knowledgeable is connecting on a digital platform. Linkedin is a great resource for up-to-date changes to our industry such as shopping habits, corporation news and changes and new shopping experiences. We also utilize the information that Columbus Business First publishes and stay active in engaging in the Columbus neighborhoods in which we work, live and serve.
What is your company culture like?
The culture at CASTO is a very family-like culture. Being a company that has grown and evolved from a small, family-owned business, to a business who now employs over 270 associates, we still embrace that family-feeling. Everyone at CASTO is ready to lend a helping hand, answer a question, give advice or point you in the right direction. Each department collaborates and works together to provide the exceptional results and services that we have been known for, for over 90 years.
What does it take to be a successful employee at your company?
A "can-do" attitude will take you a long way at CASTO. Being a team player and ready to apply innovated and new ideas will aide in becoming a successful employee of CASTO.
What makes Columbus such a great place to do business?
We like to say that Columbus is a big, small city. Columbus has a lot of innovation and new concepts that launch here and grow into other larger cities. Columbus has a lot of locally grown businesses that are successful with the help and support of the local communities.
What pieces of advice have you found to be the most helpful since starting your career?
Early in my career I was encouraged to always ask questions.  There is always something to learn and by asking questions of the experts around me, I've been able to grow.  Some people fear looking foolish if they ask questions, but I have found the reverse to be true; not asking questions suggests a lack of willingness to grow and adapt.
How do you achieve a work/life balance?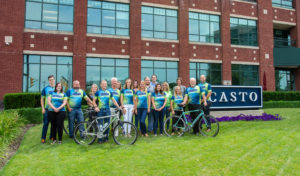 I am fortunate to work at a company that values the whole employee and recognizes that work/ life balance creates better employees.  My family is very important to me and I value my time away from the office. At the same time, I know that my CASTO teammates are relying on me.  If there are activities or events with friends or family that I don't want to miss, I may have to come in a little early one day or work a little later another. CASTO is supportive of employees' family lives and provides for this flexibility to achieve a work/ life balance.
Where is your favorite place to have a meeting outside the office?
Living in Ohio, I crave the times where we can simply be outside and enjoy some sunshine.  So, I don't have a favorite location per se, but a meeting outside, whether it's at Bicentennial Park across from our office, or just a "walk and talk" meeting around the Columbus Commons, is my favorite way to meet outside of the office. 
Social Media 
Twitter: @castoinfo
Facebook: https://www.facebook.com/CASTOinfo/
LinkedIn: https://www.linkedin.com/company/casto
Instagram: @castoinfo
Website: www.castoinfo.com