Chamber News
Workforce Report | New Americans in Our Economy
November 11th, 2021
The Chamber Foundation believes in the vibrancy and potential that our refugee and immigrant populations bring to the City of Columbus. With each wave of New Americans, we have prospered as a community. Yet, many of our new neighbors are struggling with finding secure jobs that provide a livable wage and have the opportunity for advancement.
The business community is actively seeking reliable and skilled workers to fill vital roles within every key industry, and the Chamber Foundation realizes the incredible potential that our refugee and immigrant friends and neighbors bring to our community and to the workforce.
Connecting businesses to this large and skilled talent pipeline has been supported with a generous grant from NiSource Foundation/Columbia Gas of Ohio.
With this support the Chamber Foundation has delivered:
Three virtual and free educational events in partnership with Jewish Family Services and Community Refugee Immigration Services of Columbus (CRIS)
An average of 67 registrants per event
Key early adopter AmerisourceBergen (Frank DiCenso, Director of Operations)
Better Practices:
Members of the refugee and immigrant communities face opportunities, coupled with significant barriers that can impede their ability to find and maintain a job. Learning a new language and resolving issues related to transportation often sideline many potential workers. Learn how one local employer gained success through adapting practices in:
creating a welcoming culture
flexibility of work
outreach to job seekers and their communities
Creating a Welcoming Culture
The moment you enter the AmerisourceBergen facility in Lockbourne, you are struck by the number of international flags proudly displayed in the employee entrance. Indeed, each flag represents the country of origin of all associates who work there. Before an employee sets foot on the floor, they are not only welcomed but also introduced to the incredibly diverse workplace population they are joining.
Monthly staff lunches have migrated from pizza in the break room to offerings from locally-owned Bhutanese, Vietnamese and African restaurants, providing familiar meals to employees who are also eager to share their culture with co-workers.
Recognizing that many new refugees and immigrants practice different faiths, AmerisourceBergen has created prayer rooms and spaces for their team members to incorporate their daily worship into the workday.
Women make up a large percentage of the workforce at AmerisourceBergen and several are nursing mothers. A private and safe space has been created on the job site to allow mothers the time and location to pump breast milk for their babies.
Flexibility of Work
Childcare and transportation have long been issues with the workforce in general, and are particularly onerous for new Americans, as they often lack connections to childcare and do not hold driver's licenses upon arrival in the U.S.
To meet the needs of working parents, AmerisourceBergen listened to the workers who were struggling with the existing shift schedules. The start and end times were problematic and did not synch with school and school bus schedules of employees' children. A new shift was created, allowing the workers to drop off and pick up children from school or daycare and continue to contribute a full shift worth of work…just at a new and more convenient time.
Outreach to Job Seekers
For many years employers have placed job ads and postings on websites to reach the job seeker.
In today's competitive market for talent, that is not always the best strategy, especially when recruiting from our new American population, who may be struggling with language barriers.
Frank DiCenso, Director of Operations at AmerisourceBergen, a global healthcare company with a pharmaceutical distribution center based in Columbus, has partnered with Jewish Family Services, CRIS community, and local community centers to meet the job seekers where they are already congregating and to develop relationships with the provider agencies that support refugees and immigrants in Columbus.
Hosting on-site career fairs at local community centers has become part of AmerisourceBergen's successful recruitment efforts.
Marketing materials and recruitment posters feature photos of current AmerisourceBergen employees and highlight the many nationalities employed there. The posters feature application information in both English and the native language of the employee.
The successes AmerisourceBergen is experiencing stem from a corporate commitment to create and foster more diverse and inclusive workplaces that are welcoming to every associate.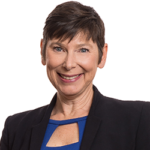 Kelly Fuller Vice President of Talent & Workforce Development KellyFuller@columbus.org