Member Spotlight
Member Spotlight: Hyre Personal Wealth Advisors
September 8th, 2022
Member Spotlight by Hyre Personal Wealth Advisors
Provide us with a brief summary of your business' services
Whether you are a business owner lacking the time and energy to focus on your personal finances, or an individual or family going through or preparing for a life transition, we can help you find the clarity you need to make wise financial decisions. Through our True Wealth approach, we take into consideration more than just the numbers – we look at the entire picture so that we can fully align your wealth with the objectives and aspirations of you and your family. With offices in both Columbus and Dayton, we have over 25 years of experience guiding our clients through financial, estate and tax planning as well as investment and charitable giving strategies.
Tell us about your company's mission and values
At Hyre Personal Wealth Advisors, our mission is to help you think clearly, analyze all your options, and make sound investment decisions to give you long-term financial confidence – so you can enjoy your wealth and live your best life.

We follow a fiduciary standard throughout the financial planning engagement. As such, we will place your interests ahead of our own when providing professional services. This is important to us as many assume that all financial professionals, whether they're stockbrokers or financial planners, are required to act in their client's best interest. But that's not the reality. It's important to understand the distinction between different types of financial professionals' roles and what it means for you and your money. You want to make sure you are working with a financial professional required to follow a fiduciary standard.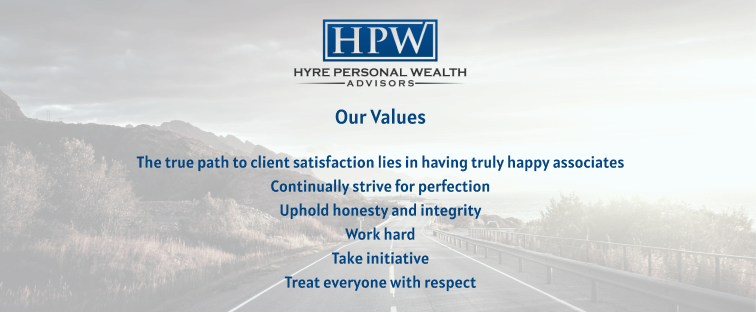 What are the services you use the most (or are looking forward to using) from the Columbus Chamber?
The Chamber is a testament to how welcoming and supportive the Columbus business community is of each other. We are thankful for the networking opportunities to connect other Chamber members – to share knowledge, build partnerships and help grow our respective businesses. We are also thrilled to have access to resources to aid in professional development, talent recruiting and volunteer opportunities.
How do you stay engaged with trends that you see in your industry?
By actively listening – we constantly have our pulse on what is happening in the markets and in the news as well continually staying connected with experts in our industry and our partners in the legal, accounting and technology sectors.
We also keep an open ear for our clients – how are they reacting to world events and market trends, what are their pain points and risk appetites as the world around us is constantly evolving. Investing incredibly personal so it's imperative that we keep our clients first and foremost as we engage and react to ever changing industry trends.
What is your company culture like?
Our culture is focused on creating exceptional experiences – namely for our clients and partners but also for each other. We are committed to delivering a quality experience with outstanding efficiency in everything we do. Our firm believes in always doing the right thing and empowering each other and our clients to reach our fullest potentials.
What does it take to be a successful employee at your company?
At Hyre Personal Wealth Advisors, a successful employee is one that takes pride in the work they do and the experience they provide our clients and partners.
What makes Columbus such a great place to do business?
Columbus has such a robust entrepreneurial spirit – it's really amazing how many national businesses have gotten their start here. And that number keeps growing. Overall, Columbus exudes creativity, progressively and inclusivity, which have lent to us retaining and enticing so many brilliant minds. Plus we are fortunate to have engaged business community that really rallies around one another. Together we are better.
Social Media:
Twitter: http://www.twitter.com/hpwealth
Facebook: https://www.facebook.com/HyrePersonalWealthAdvisors
LinkedIn: https://www.linkedin.com/in/jimhyre/
Website: https://www.hpwealth.com