Member Spotlight
Member Spotlight: Goodwill
March 23rd, 2020
Member Spotlight by Patrick Maks, Program Consultant IT Pathways
Provide us with a brief summary of your business' services:
Goodwills nationwide are committed to enabling more than one million people with disabilities and other barriers to employment – like youth, older workers, veterans and restored citizens – to receive digital skills training over the next three years. In the last several years, Goodwill Columbus has dramatically broadened our Information Technology offerings in response to the nationwide call for more qualified IT professionals. There are several tracks for students to follow:
The first is the CompTIA A+ track. In this curriculum, offered at no charge to students 17-29 thanks to a U.S. Department of Labor grant, students receive intensive classroom instruction and can earn – in less than three months –an industry recognized IT credential, "CompTIA A+," a foundational merit for students interested in a career in IT. Following successful completion of A+, students can move on to Network+ and Security+ at their own pace.
The Google IT Support Professional Certificate, developed by Google and hosted on Coursera, can help students become ready for an entry-level job in IT support in about eight months and this class is open to all ages.  The course prepares students for careers such as: Help Desk, Software Application Support Specialist and more.
All graduates of Goodwill Workforce Development programs also complete a two-week 60-hour boot camp covering soft skills, digital skills, planning and organization, as well as communication, interview etiquette and prominence skills.
This kind of training is extremely important to the Columbus business community as there is a shortage of qualified professionals in the employment pool. Goodwill Workforce Development aims to be a pipeline for businesses to access skilled and passionate IT professionals looking for entry and mid-tier positions.
In addition to our IT training, Goodwill Columbus Workforce Development has program pathways and employment assistance in the growing areas of Hospitality and Lodging, Retail, Healthcare and Custodial.  Call us today at 614-583-0365 to find out more information!
Tell us about your company's mission and values:
Goodwill's IT pathways trainings are a critical link to creating a positive digital imprint in central Ohio that will empower individuals to transform their lives through education, opportunities and employment. Goodwill Columbus overreaching mission is transforming the lives of individuals with disabilities and other barriers through pathways to independence and the power of work.  We are committed to helping people from all walks of life with a hand up, not a handout.
What are the services you use the most (or are looking forward to using) from the Columbus Chamber?
We are really looking forward to learning through the collaborative event sessions and interacting and networking with other businesses. We also want to continually build connections with other members of the Columbus Chamber to benefit the people we serve. We are also really looking forward to the CEO Insights programs and to hearing from some of Columbus' most remarkable community leaders. Those aspects are a huge benefit to all business entities.
How do you stay engaged with trends that you see in your industry?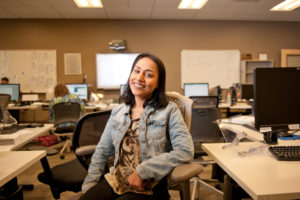 Various avenues of engagement are necessary to stay abreast of our ever-changing industry landscape.  National and local conferences sponsored through Goodwill Industries International, and constant monitoring of national and local labor market trends help determine where to put forth our Workforce Development resources. Additionally, local engagement activities include but not limited to attending local community events, working with the Workforce Development Board of Central Ohio, and being actively engaged in local community organization advisory boards.
What is your company culture like?
Our major company culture trait is one of a relentless passion to help those in all walks of life, wherever that may be. There is a commitment from the CEO all the way through our organization to invest in the lives of others and to invest in the personal development of all associates through ongoing training, developmental activities and wellness.
What does it take to be a successful employee at your company?
Be intentional, be passionate, be willing to drive for results and be willing to continue your own personal development. Be willing to make a difference in the lives of those we serve.
What makes Columbus such a great place to do business?
Columbus is a thriving community that continues to see vast growth in all sectors.  While a melting pot of different communities and businesses, Columbus seeks to be a city that achieves collaborative solutions and takes the initiative to be the best by promoting cutting edge ideas and investments in the business and community environments. Columbus is a large city with a hometown feel. The uniqueness and strength of the city lies within the citizens that work and reside here.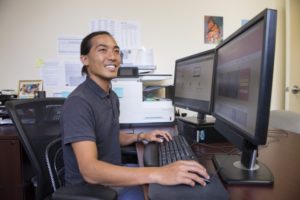 What pieces of advice have you found to be the most helpful since starting your career?
It's important to know yourself – know your strengths and your areas of opportunities.  Build upon your strengths and focus on improving your shortcomings. Find a mentor in your career path of choice.  Emulate their best habits of success.
Do what's right and continually seek a high level of integrity.  Then, turn around and be a mentor to someone else.  Pour out and invest into others as someone has done for you.
How do you achieve a work/life balance?
Goodwill Columbus offers various programs, education, and activities within their Four Pillars of Be Well – a great way to strike a work/life balance: Be Well…Be Secure, Be Well…Be Trained, Be Well…Be Healthy, Be Well…Be Connected.
Where is your favorite place to have a meeting outside the office?
There are such tremendous venues available in Columbus however – the North market area in downtown Columbus and DK diner in Grandview come to mind.
Social Media:
Twitter:       https://twitter.com/GoodwillCols
Facebook:  https://www.facebook.com/GoodwillColumbus
LinkedIn:    https://www.linkedin.com/company/goodwill-columbus
Instagram:  https://www.instagram.com/goodwillcolumbus/