Member News
Kaiser Consulting Awarded a #1 Spot in Central Ohio's 2023 Best Places to Work
November 16th, 2023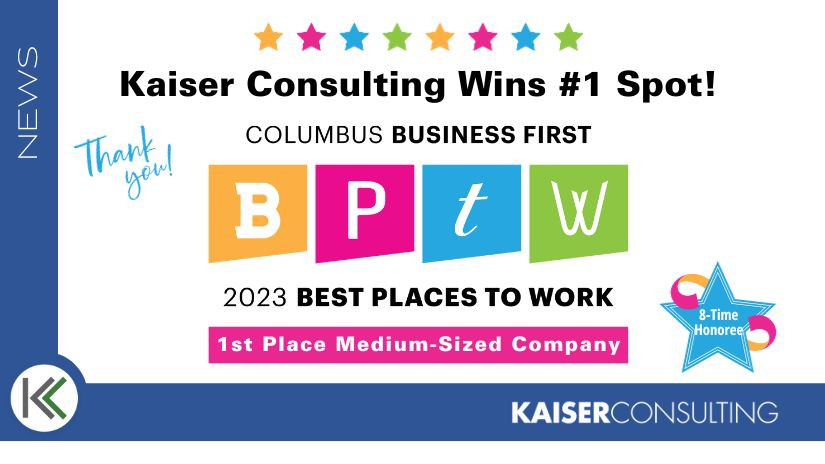 Kaiser Consulting is thrilled to announce the firm has again been named a Best Place to Work in Central Ohio by Columbus Business First, receiving the first-place honor in the medium-sized company category for 2023. As the recipient of this highly respected award six years in a row and eight times overall, we are elated that this year's award marks the third time Kaiser Consulting has finished in the top position.
The Best Places to Work program recognizes organizations that create and sustain exceptional workplace cultures. The recognition is awarded to companies in five different size categories based solely on employee engagement survey results. For 2023, Kaiser Consulting is honored to be ranked #1 out of 10 companies in the medium category, representing companies with 50 to 99 employees.
"We graciously accept this award recognizing Kaiser Consulting as a place where people love to work. Our leadership team is committed to attracting the topmost accomplished consultants in our profession and providing an empowering workplace environment where every employee is achieving their full potential," said Tracey Holecek, CPA, managing partner + shareholder at Kaiser Consulting. "Being recognized as the number one Best Place to Work in our category is extremely gratifying because this recognition is based entirely on the opinions of our engaged and satisfied team members," commented Holecek. "The positive feedback lets us know our employees feel our firm's culture is thriving and conducive to their personal and professional well-being."
To determine which Central Ohio workplaces to honor in 2023, Columbus Business First partnered with Quantum Workplace to compile anonymous employee satisfaction surveys measuring workplace factors across the following six categories:
Communication and Resources
Individual Needs
Manager Effectiveness
Personal Engagement
Team Dynamics
Trust In Leadership
The 2023 annual ranking results were announced on November 8, 2023, during a networking reception and awards ceremony hosted by Columbus Business First at Nationwide Arena in downtown Columbus.
"Having Kaiser Consulting be honored for its outstanding culture by the Best Places to Work program is meaningful because the award signifies our team members feel valued and are incredibly satisfied with their coworker and client interactions, paths for professional development, and opportunities for work-life harmony that best fits their lives," said Angela McDermott, shareholder + managing director of operations at Kaiser Consulting. "As our firm continues to grow, receiving this sought-after recognition confirms that everyone from our newest to our longest-term employees feels appreciated, respected, and enjoys working here."
The November 10, 2023, issue of Columbus Business First will include a complete list of the most recent winners in a special Best Places to Work supplement. Congratulations to all the 2023 outstanding workplace honorees!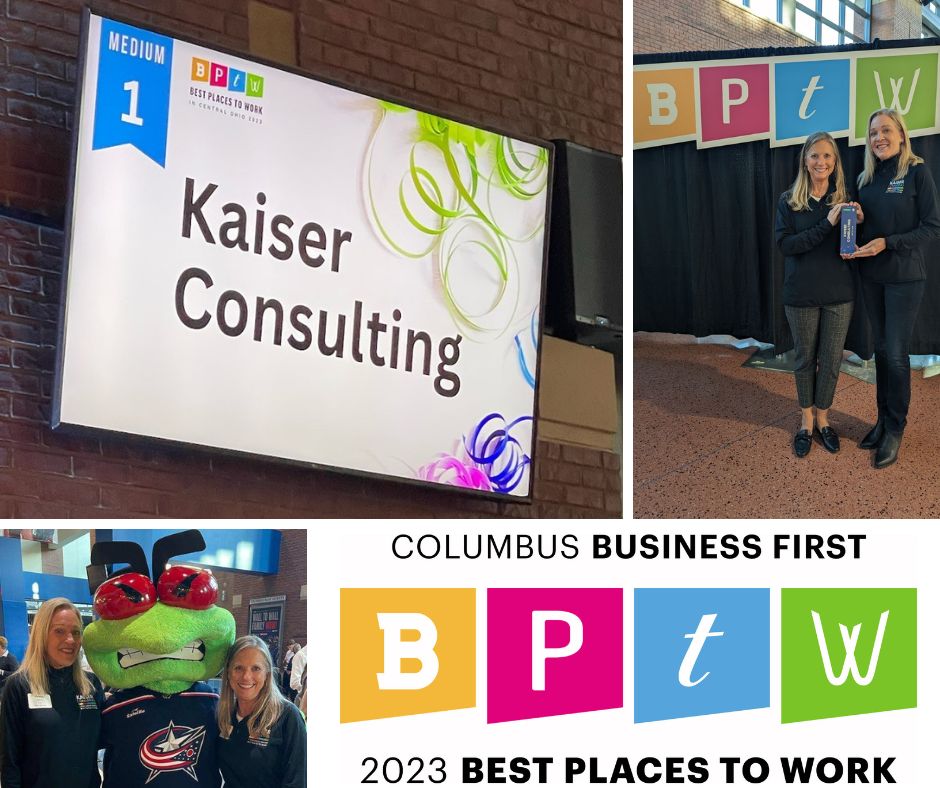 ABOUT KAISER CONSULTING
Kaiser Consulting offers a full suite of accounting, finance, and information technology compliance and data security solutions delivered with industry-specific expertise to help organizations navigate the complexities of growth and change. Our accomplished professionals collaborate with executives and management teams to reduce business and operational risks, bridge resource gaps and optimize company-wide financial performance. A trusted advisor since 1992, we proudly serve enterprises of all sizes, including privately held and publicly traded businesses, multinational Fortune 100 and Fortune 500 companies, closely held entities, visionary start-ups, and mission-driven nonprofit organizations. Headquartered in Columbus, Ohio, we are a member of the Atlantix Partners family of companies – a nationwide network of seven premier finance and accounting consulting firms representing 400+ professionals that expands the breadth and depth of our selection of accounting, finance, compliance, data automation, and technology service offerings. We help clients throughout Ohio, the Midwest, the United States and beyond manage immediate needs, meet short-term targets and achieve long-range goals. Our commitment to experienced and knowledgeable professionals gives your enterprise a distinct advantage in identifying potential business issues, implementing solutions and eliminating obstacles before they are encountered. To learn more, visit https://kaiserconsulting.com.
ABOUT COLUMBUS BUSINESS FIRST
Columbus Business First is the leading source for business news, data, and networking for the Central Ohio area. To learn more, visit https://bizjournals.com/columbus.
ABOUT QUANTUM WORKPLACE
Quantum Workplace is a human resources technology provider that equips workplaces with the smartest talent solutions so they can drive employee, team and business success. To learn more, visit https://quantumworkplace.com.