Staff Insights
DEIA | Internships as a DEIA Tactic
March 17th, 2022
What's one way to attract emerging talent from underserved populations to the workplace? Paid internships. According to the National Association of Colleges and Employers . . .
At least 60% of students in each graduating class since 2013 completed an internship during their time in college.
Approximately 66% of interns converted to full-time employees of the companies for which they interned.
White, Asian-American and International students are more likely to be paid interns.
African-American students are more likely to be unpaid interns.
Hispanic-American and Native-American students are more likely to not have an internship at all.
Multi-racial American students are more likely to either have an unpaid internship or no internship.
Considering this information, we have an opportunity to hire more African-American, Hispanic-American, Native-American, and Multi-racial American students for paid internships. Students from these underserved communities often forgo valuable internship opportunities so they can take paying jobs to help save money for the next school year. If the student is graduating, they need to start earning income immediately. A paid internship provides the opportunity for students and recent graduates to gain invaluable experience in the workforce before officially joining it. If students are going directly from college into the corporate environment with no previous exposure, it may take them longer to adjust and companies may not be able to retain them.
Here are a few actions you can take to recruit more interns from underserved communities.
Formulate a Diverse Internship Strategy with three key areas of focus.

Attraction and Recruiting
Intern Experience
Intern Conversion to Employee

Develop relationships with the following entities.

Historically Black Colleges and Universities
Universities that have and retain the highest populations of Hispanic-American, Native-American, and Multi-racial students
High schools, career centers, and community organizations that serve a large population of students from the aforementioned underserved communities
In addition to proper onboarding and performance management, here are some other actions you can take to enhance an intern's experience.
Provide inclusive leadership development opportunities for your leadership team.
Give the intern real work assignments with clear success measures and opportunities to check in for feedback and guidance.
Connect interns with the following people in your organization.

A mentor who "looks like them"
A mentor to help them navigate the corporate environment
Employee Resource Group and/or Diversity Council leaders
Community organizations for professionals from underserved communities

Provide relocation services and temporary housing assistance to interns.
We'd love to hear about tactics you've implemented to attract interns from underserved communities. Feel free to reach out to Sherrice Thomas at sherricethomas@columbus.org to share your success stories or click here to schedule a DEIA Consultation.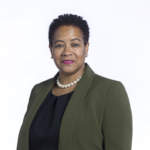 Sherrice Thomas 
Vice President of Diversity, Equity, Inclusion & Access
SherriceThomas@columbus.org