Member News
VanTrust Starts Second Building After Pre-leasing First to a Fortune 500 Company
July 15th, 2021
FOR IMMEDIATE RELEASE
Contact:  Liz Lane
Team Fleisher Communications
614-558-6666
liz@teamfleisher.com
Columbus, Ohio (June 10, 2021) – VanTrust is pleased to announce the groundbreaking of a second speculative building at Rickenbacker Exchange at Commercial Point, a 900-acre master planned industrial park located in the Village of Commercial Point, Ohio. The second building is being built after leasing the entire first speculative building ahead of completion to a confidential international Fortune 500 company.
The second building (Building 1194), is slated to be 20% larger than the first building with a total of 1.2M SF. Once complete, both buildings will be the largest industrial speculative buildings in the Rickenbacker submarket. Building 1194 is pad-ready and on track for delivery in Q2 2022. The building will boast 40-foot clear heights, 8-inch floor slabs and up to 281 dock doors, presenting a promising growth and/or relocation opportunity for a large volume e-commerce tenant.
"Having the first building lease up so quickly generated a lot of enthusiasm to start developing the second building. Being able to further expand the park and bring more jobs to the community is exciting," says Andy Weeks, Executive Vice President, VanTrust. "We are really looking forward to witnessing the positive impact and economic growth for the surrounding communities."
Project construction is being managed by Pepper Ohio, a subsidiary of Pepper Construction Group in partnership with RED Architecture as leading project designer and VanTrust as master developer. Michael Linder, Joel Yakovac and Shane Woloshan of Colliers Columbus are the listing agents on all four buildings.
Aerial view of construction progress of Building 1 and pad site for Building 1194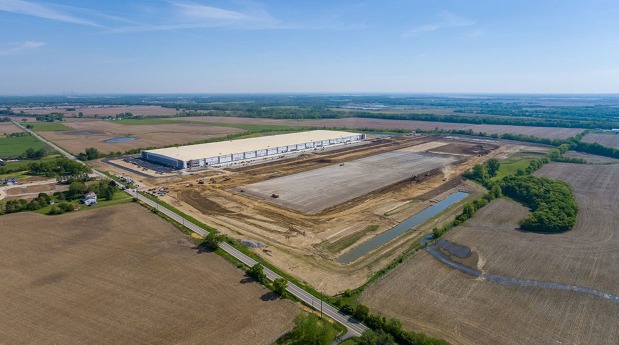 ABOUT VANTRUST
VanTrust Real Estate, LLC is a full-service real estate development company. The company acquires and develops real estate assets for the Van Tuyl family portfolio and offers a broad range of real estate services including acquisition, disposition, development, development services, and asset management. Product types include office, industrial, multifamily, retail, institutional, governmental, hospitality, and recreational. VanTrust works nationally with regional offices in Columbus, Dallas, Phoenix, and Jacksonville with its headquarters in Kansas City, Missouri.
###