Member News
Michelangelo: A Different View Art Exhibit Less Than a Month Away Explore the Sistine Chapel as You've Never Seen it Before
December 3rd, 2021
(Columbus, December 3 , 2021) — The most famous fresco in the world, Michelangelo – A Different View, is coming soon to the Greater Columbus Convention Center (GCCC) . Exhibit will open on December 22, 2021, and be on display until January 23, 2022. The sculptor and painter, Michelangelo, spent four years of his life on scaffolding under the vaulted ceiling of the Sistine Chapel painting his interpretation of the history of creation. Visitors will be given the chance to engage with the artwork seeing every detail, brushstroke, and color of Michelangelo's frescoes.
Michelangelo – A Different View allows for guests to view magnificent works of Michelangelo, the originals of which adorn the ceiling of the Sistine Chapel at the height of nearly 70 feet. Far away from the enormous streams of visitors to the Sistine Chapel, visitors here can take in the imposing paintings at their leisure and soak them in from only a few feet away.
Under the license of the Vatican Museums, the images were reproduced and transferred to special fabric webs. This technique allows true-to-life reproduction providing a glimpse of the works, which, apart from Michelangelo, has been given to only a few people.
"The format of this event is ideal when bringing in the community into the facility given our expansive space," said GCCC General Manager John R. Page. We can accommodate large numbers comfortably and safely so guests can enjoy the artwork while maintaining social distance. The pieces that will be on display are incredible and will be a must-see for all art lovers."
Tickets for Michelangelo – A Different View are available for purchase now through Eventbrite. Price ranges for tickets are $10 – $17, with group discounts available. Tickets are sold in 1-hour sessions to allow for staggered entrance and to maintain physical distancing. The entire experience is set to take place at the Greater Columbus Convention Center – Union Station Ballroom, 400 North High Street. For more information on ticket prices and session times, visit https://bit.ly/MichelangeloCBUS or call 614-827-2500.
Tickets can be purchased via Eventbrite: https://bit.ly/MichelangeloCBUS
Additional information can be found here: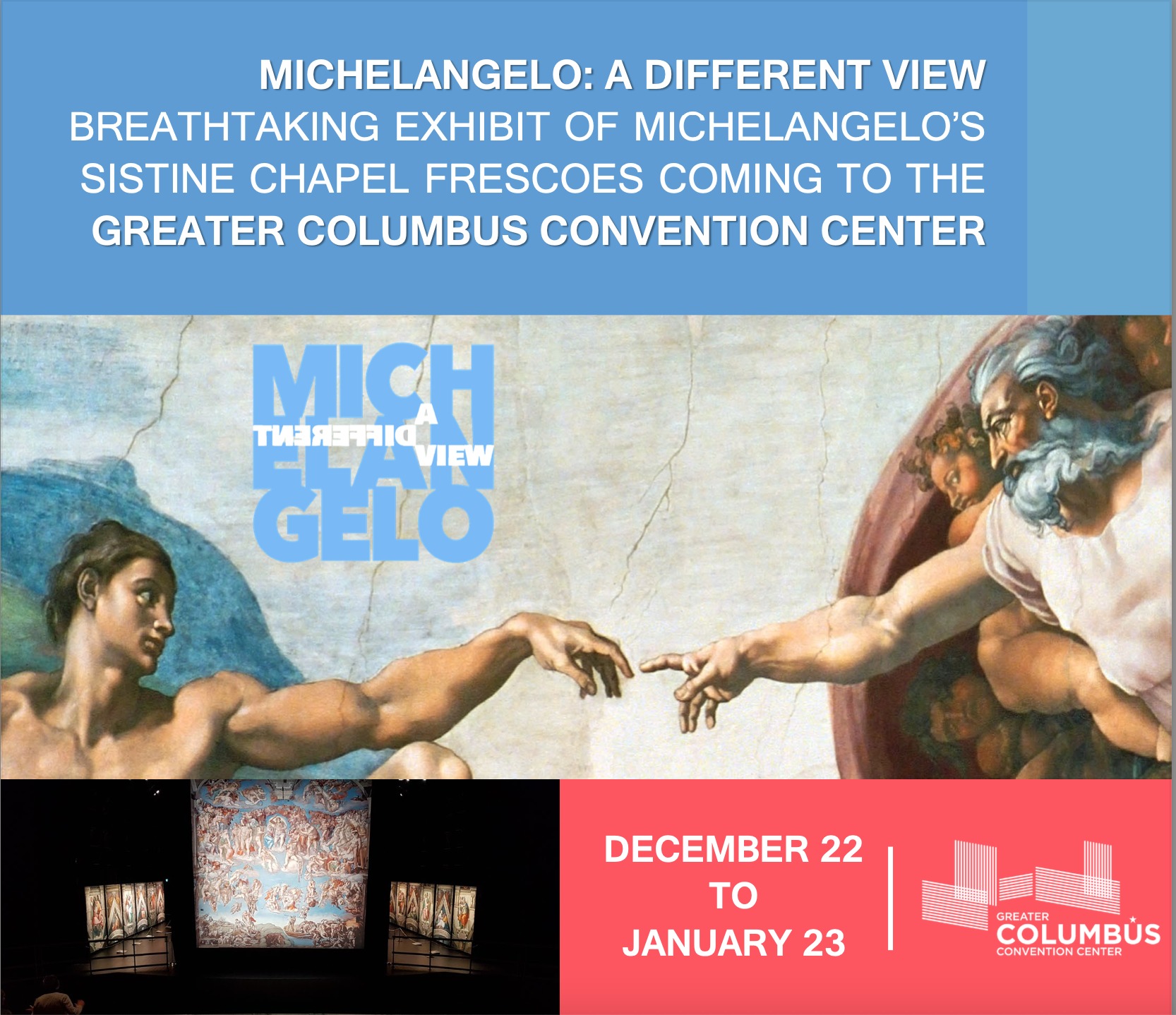 ABOUT GREATER COLUMBUS CONVENTION CENTER:
The award-winning, 1.8 million-square-foot Greater Columbus Convention Center offers 373,000 square feet of contiguous exhibit space, 75 meeting rooms and a total of 114,000 square feet of ballroom space among three ballrooms. The facility is owned and developed by the Franklin County Convention Facilities Authority and managed by ASM Global. For more information, please call (614) 827-2500, or visit https://columbusconventions.com . Like us on Facebook at facebook.com/ColumbusConventions and follow us on Twitter @CBusConventions.
ABOUT ASM GLOBAL:
ASM Global is the world's leading producer of entertainment experiences. It is the global leader in venue and event strategy and management – delivering locally tailored solutions and cutting-edge technologies to achieve maximum results for venue owners. The company's elite venue network spans five continents, with a portfolio of more than 325 of the world's most prestigious arenas, stadiums, convention and exhibition centers, and performing arts venues. For more information, please visit http://www.asmgobal.com