Member Spotlight
Member Spotlight: Ashland University
April 8th, 2020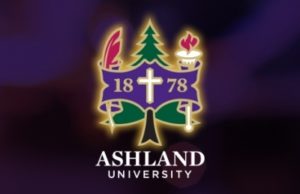 Member Spotlight by Dan Lawson & Lenroy Jones
Provide us with a brief summary of your business' services.
The Ashland University Corporate Connections Department and Career Services Center both serve to connect the university and the corporate world, but through different approaches.
Corporate Connections is a relationship manager working to understand the needs of the corporate community and then pairing Corporate Partners with University resources that can provide potential solutions. AU's Corporate Partners also can make use of a Tuition Discount Program offered as an employee benefit.
"Ashland University is excited to develop mutually beneficial relationships with the Columbus-area business community," said Associate Vice President and Chief Corporate Relations Officer Dan Lawson. "We offer face-to-face courses and professional development and training opportunities through our Columbus Center at 1900 E. Dublin-Granville Road, plus online courses at all levels. We look forward to creating partnerships in the Columbus area to address recruitment, training, research and other corporate needs."
Other services AU offers to its Corporate Partners include training and professional development and a chance to outsource projects to current Ashland University students. Whatever your corporate needs, AU works to find the solution.
The Career Services Center offers programs, resources and services for both current students and alumni all across the region and nation, including free career coaching and advising services. Our committed career services professionals work with students on career development, planning and decision making.
"The mission of the Career Services Center is to lead in equipping Ashland University students and alumni to develop, plan and manage their careers," said executive director Lenroy Jones. "And to help them connect with an organization where they can serve, excel and bring value is the most gratifying outcome of the work we do here."  Moreover, "Having our students and alumni land in meaningful and purposeful employment, we know at Ashland University lead's to career success and satisfaction," said Jones.
Career Services also offers recruitment tools for employers looking to add competent, dedicated AU-educated professionals to their workforces. AU Career Connect is an online job and internship posting system that matches businesses with potential job candidates. In addition, Career Services hosts career expos and also invites businesses to engage with students through information sessions, tabling, virtual meetings, meet and greets and one-on-one interview scheduling. "We are actively engaging with organizations to craft the best campus strategy for recruiters to successful recruit on campus and virtually," said, Jones.
Corporate Connections and Career Services take a holistic approach to customer service, engaging with partners, listening actively to their needs and working together on workforce solutions that at the same time allow them to serve both AU students and alumni as a conduit for career advancement and development.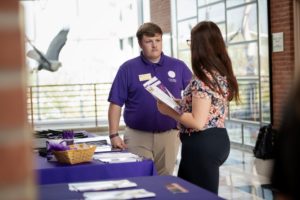 Tell us about your company's mission and values.
A well-educated, adaptable workforce is the future of our world. These are the professionals who will run our businesses, govern our society, care for those in need and educate and guide future generations. Nothing is more important than giving them the knowledge, skills and abilities they will need to lead our world. Ashland University educates students for future opportunities and seeks to collaborate with its corporate colleagues to build and strengthen the pathways from classes to careers.
The mission of Ashland University, guided by our Christian heritage, is to provide a transformative learning experience, shaping graduates who work, serve and lead with integrity in their local, national and global communities.
Our values and what they mean are important to us. We live them daily and so do our students and alumni.
It is those same values that form the cornerstone of the Career Services Center's bold vision seek – to assure each and every one of our students earn gainful employment or acceptance into a graduate or professional program by six months after graduation.
"Accent on the Individual": We pledge the best individual and collective efforts to challenge and encourage each member of the university within a supportive community.
Spirituality and Faith: We affirm our Christian values as a core element of the University's institutional identity, emphasizing faith in God, moral integrity, and respect for the diversity of values and faith of each person in a community of learning.
Character Development: We promote integrity, self-discipline, responsibility, compassion, leadership, service and good citizenship.
Academic Freedom: We support free, open and critical inquiry for both students and faculty necessary for intellectual and professional development.
Excellence in Teaching: We emphasize teaching supported by research and scholarship as the University's central responsibility
What are the services you use the most (or are looking forward to using) from the Columbus Chamber?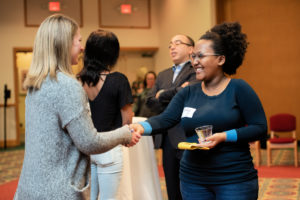 Networking, engagement, collaboration, introductions to Chamber members.
We're excited for the opportunity to connect. We think we have a great opportunity to help students gain real-world experience and become better people and outstanding employees, but we can't do that without companies with which to partner. We are excited to utilize networking opportunities to meet more businesses within the Columbus Chamber.
How do you stay engaged with trends that you see in your industry?
Ashland University is dedicated to higher education, but its Corporate Connections Programs has many levels of engagement. Our partners work in healthcare, manufacturing, professional services, food service and more. The best way for us to stay engaged is by asking a lot of questions, beginning with, "How can we help?"
The more we know about your corporate needs, the deeper we can dig to identify and provide the right solution.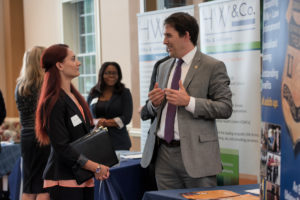 What is your company culture like?
Collaborative, supportive, innovative and informed. We believe in lifelong learning not only for our students, but for our employees, alumni and partners beyond the campus community.
What does it take to be a successful employee at your company?
It takes a desire to serve, along with a passion for life-long learning. It is through helping others that we believe we truly succeed.
What makes Columbus such a great place to do business?
Columbus has experienced an unprecedented period of rapid growth and continues to emerge as a hub of innovation, with a diverse workforce and a large cross-section of business and industry. It's a city synonymous with innovation, culture and excitement and we want to be a part of that. We believe that Ashland University has the tools to connect Columbus's businesses and industries with both solutions to business issues and a pipeline to an AU-educated professional workforce.
 Social Media
Corporate Connections and the Career Services Center maintain individual social media presences
Facebook: https://www.facebook.com/AUCorporateConnections/
LinkedIn: https://www.linkedin.com/company/40892462/admin/
Instagram: https://www.instagram.com/aucareerservices/
Website: www.ashland.edu/corporate-relations and www.ashland.edu/career