Chamber News
Foundation News
Member News
Hispanic Chamber of Commerce, Columbus Women's Commission, and Columbus Chamber Foundation Announce Pay Equity Partnership in Honor of Latina Equal Pay Day
December 5th, 2022

(COLUMBUS, OH) – The Hispanic Chamber of Commerce and Columbus Chamber Foundation are joining forces with the Columbus Women's Commission (CWC) to create awareness about the pay gap disparity for Latinas and encourage local employers to sign the Pay Equity Pledge and examine policies and practices to close the pay gap experienced by Latinas.
More than 50 years after the passage of the Equal Pay Act of 1963, Latinas working full-time, year-round and part-time earn only 54 cents for every dollar earned by white, non-Hispanic men. Latinas who work full-time year-round earn 57 cents to the dollar. On average, Latinas in the United States are paid 51% less than white men and 31% less than white women. This means that the average Latina loses out on over a million dollars in income over a lifetime.
This year, Latina Equal Pay Day falls on Thursday, December 8th, highlighting that it takes the average Latina, working full-time year-round, 12 extra months to earn what the average white non-Hispanic man earns in 1 year.
The Columbus Commitment is a voluntary, employer-led effort in which business owners pledge to take action to close the wage gap and achieve pay equity for working women. Since its inception, more than 300 local employers – including Cardinal Health, Jeni's Splendid Ice Creams, Donatos Pizza, and others – have signed the pledge and are examining their practices to address equity. The collaboration hopes to educate local employers about the Columbus Commitment to address gender disparities.
As part of the collaboration, the CWC and the Chambers will unite to lead an event on December 8th at La Plaza Tapatia 10-11:30 am for local business owners to sign The Columbus Commitment: Advancing Pay Equity Pledge. The pledge signing will be followed by a panel discussion with:
Moderated by: Lillian Morales-Laster, Director, Latina Mentoring Academy
Ronnie Marquez-Posey, CWC Commissioner, Bureau Chief of Trade and Veteran Services for the State of Ohio in the Office of Workforce Development
Councilmember Lourdes Barroso de Padilla
Claudia Yvette De León, Chief Operating Officer, La Mega Media, Inc.
Lilleana Cavanaugh, Executive Director, Ohio Commission on Hispanic and Latino Affairs
"Having to work almost a full year longer to make the same as an average white male counterpart, is not only unacceptable, but it truly puts a burden on Latina women as breadwinners in our families. All of us deserve the full dollar for equal work and our community of entrepreneurs and business leaders deserves to be educated on this matter so that our companies value the workplace equally. It is our responsibility as a Chamber to shed light on pay equality across all fronts and we will continue encouraging these efforts and celebrating its acknowledgment until we close the gap."

Claudia Yvette De León, President, Hispanic Chamber of Commerce
"As we encourage employers to invest in equitable and inclusive practices, pay equity and pay equality are at the top of the list. This will help us break cycles of poverty. It's good for business. It's good for associates. And it's good for our community as a whole."

Don DePerro, President & CEO, Columbus Chamber of Commerce
"The pay disparities for Latina women and women of color are truly unacceptable," said City of Columbus Mayor Andrew J. Ginther. "All women deserve equal pay for equal work and to have their skills and contributions valued, encouraged and rewarded in the workplace and beyond. That is what the Columbus Commitment is all about, and that is why we must continue to enlist additional employers in our ongoing efforts to address gender- and race-based pay gaps throughout the community."

Shannon Ginther, Chair, The Columbus Women's Commission
Lean In, Latinas aren't paid fairly-and that's just the tip of the iceberg
---

ABOUT THE HISPANIC CHAMBER OF COMMERCE
The Hispanic Chamber of Columbus was created to serve as a key resource to connect Hispanic businesses and professionals with the Central Ohio Business Community. Learn more: https://www.hccolumbus.com/about-us
---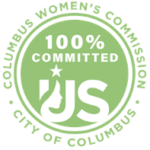 ABOUT THE COLUMBUS WOMEN'S COMMISSION
The Columbus Women's Commission is an advisory body to Mayor Andrew J. Ginther working to dismantle barriers and reduce gender-based inequities to improve the economic well-being of women in our community. The diverse 20-member commission, chaired by First Lady Shannon Ginther, is comprised of passionate experts who bring diverse life experiences and perspectives to the work. The Commission uses data and listens to women's stories to understand the explore the issues they face and where the Commission can affect change for greater impact. The Columbus Commitment: Achieving Pay Equity was established in 2017 and educates local employers to help close the pay gap in Columbus. In the U.S., the wage gaps between men and women still persist, especially for women of color, with women earning an average of 82 cents per every $1 earned by men. Learn more: https://www.columbus.gov/womenscommission/
---

ABOUT THE COLUMBUS CHAMBER FOUNDATION
The Columbus Chamber Foundation has a mission to improve the economic well-being of underserved individuals through enhanced access to workforce and diverse supplier development programs that lead to employment and contracting opportunities. Learn more: https://columbus.org/columbus-chamber-foundation/