Member Insights
Food Waste Action Week March 7-13
March 9th, 2022
People across the country are celebrating Food Waste Action Week (March 7-13) this week and SWACO is making it easy for Central Ohio residents and families to participate. Along with hundreds of local partners, SWACO created and launched the Save More Than Food campaign more than a year ago to provide resources and information that help individuals take action to reduce food waste at home, school and work.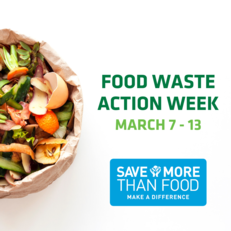 Not only is food waste the single largest source of material sent to the landfill every year, it also presents the best opportunity to reduce our reliance on the landfill and help slow climate change.
Utilizing Save More Than Food resources, it's easy to participate in Food Waste Action Week when you follow these three simple steps at home:
Shop Smart. Have a plan for what you purchase at the grocery store so you can avoid buying too much food, which can lead to waste. Save More Than Food has links to the Guestimator, a dinner party calculator, and meal prep tools to help you shop with the confidence that you're only buying what you need.
Understand Food Labels. SWACO's Administrator for Food Waste Programs, Jane Karetny, says understanding food labels is her go-to response when people ask her what they should know about food and waste. Check out these videos and resources to better understand date labeling and how to tell if milk is still good.
Store Foods Properly. Is there an item or two that always seems to go bad before you get to them? Check out this link to a food storage guide which can help you keep your fruits, vegetables, and grains fresher longer. Similarly, we've developed some videos on ways to properly store cheese and herbs to help them last.
By using these resources you can begin to act more sustainably, reduce the amount of waste you create and start saving more than food!
Save More Than Food resources and information are proven effective at reducing waste. In fact, SWACO teamed up with the City of Upper Arlington and The Ohio State University to study the program last year. During the study, which occurred in the spring and summer 2021, more than 1,600 participants with access to a food waste drop off program were surveyed about their food waste behaviors during the spring and summer 2021.
Throughout the study period, households received a variety of food waste prevention and rescue information. The results were significant: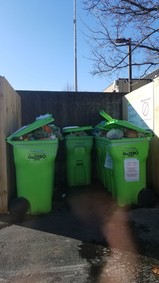 21% reduction in food waste generated in participating households
40% increase in the use of the food waste drop off locations, a marked improvement in the amount of food waste diverted from the landfill in just one community.
Food waste drop off programs are growing in popularity and make it easy and convenient for households to compost their food scraps.
Work is already underway in the cities of Gahanna and New Albany who will be opening new food waste drop off sites in the coming month, as well as implementing the Save More Than Food campaign in their communities. They join the cities of Bexley, Dublin, Grandview Heights, Grove City, Hilliard, Upper Arlington, Westerville and Worthington who all previously launched food waste drop off locations in Central Ohio. Visit SaveMoreThanFood.org to find information on these locations.
Together, we can stop food waste and make a difference for Central Ohio.