September 21
@
9:00 am
–
3:00 pm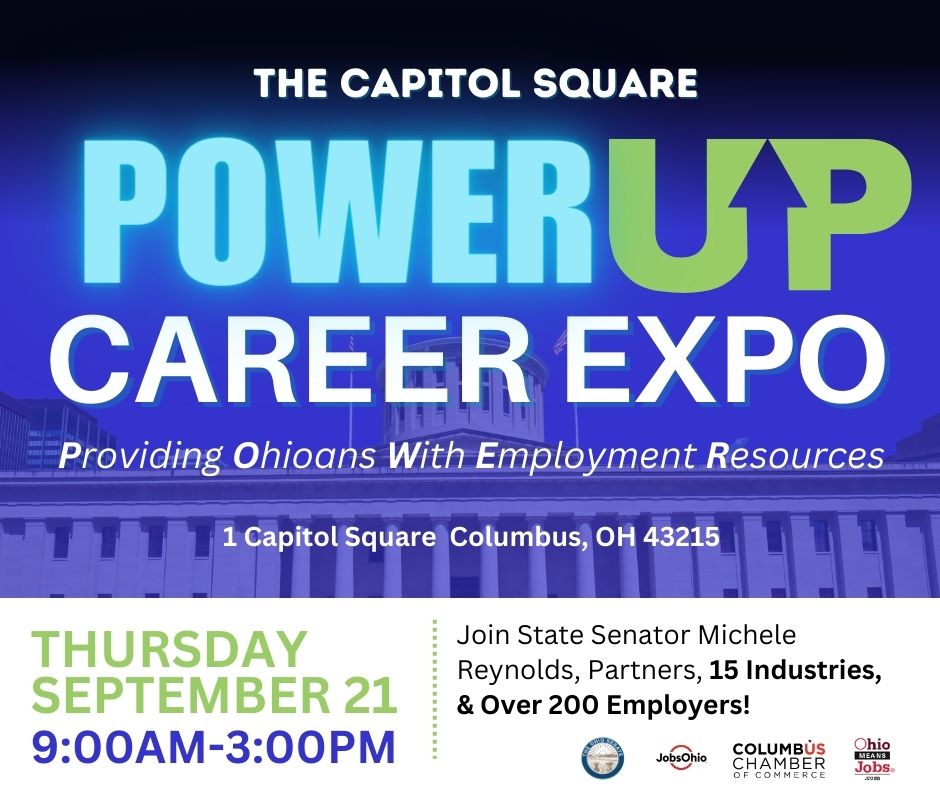 🌐 Central Ohio's premier career event is here! 🌐
Providing Ohioans With Employment Resources
Benefits to Employers
Are you an employer seeking talented individuals to take your business to new heights? Or are you an ambitious employee looking for the perfect career match? Look no further! Senator Reynolds cordially invites you to the most anticipated career event of the year – the Capitol Square Career Expo, where extraordinary possibilities come to life!
Access Top Talent: Attracting a diverse pool of skilled professionals, the Capitol Square Career Expo gives you unparalleled access to the finest candidates in Central Ohio. Connect with candidates from various backgrounds and expertise levels, all eager to contribute their unique talents to your company's success.
Promote Your Brand: Showcase your company's mission, vision, and values on the grand stage. A well-executed presence at the Expo will not only attract potential employees but also enhance your brand's reputation in the region.
Benefits to Employees
Explore Diverse Opportunities: Whether you're a seasoned professional or a fresh graduate, the Capitol Square Career Expo boasts an array of industries and job opportunities, ensuring there's something for everyone. Unearth new paths and embark on a fulfilling career journey.
Connect Directly with Employers: Say goodbye to traditional job application processes. Engage directly with company representatives, discuss job openings, and make a lasting impression that goes beyond your resume.
Career Advancement Resources: Participate in insightful workshops, panel discussions, and expert-led seminars that will equip you with the skills and knowledge necessary to elevate your career prospects.
Together, let's build a brighter future for Central Ohio's workforce! See you at the Capitol Square Career Expo!