HBK High Performance – Vision Casting 2022 – Winter | HBK CPAs & Consultants
January 19
@
1:00 pm
–
5:00 pm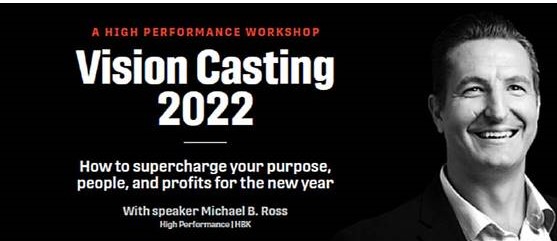 Clear organizational vision is critical to long-term success, and the byproducts of a clear vision positively affect employees, customers, purpose, and profits. "Vision-Casting" takes effort, but the result is the direction, the focus, and a competitive advantage that can last a lifetime.
Do you have a clear, compelling, and measurable 12-month vision for your organization? Are you confident in your ability to successfully lead your organization toward that vision in 2023, regardless of external or internal uncertainty? If you answered "no" to either question, this workshop is for you.
In VISION-CASTING 2022, High Performance Principal, Michael B Ross will help you prepare your organization for the new year by defining your organizational vision and purpose and establishing the key performance indicators (KPIs) you need to stay on track and motivate your team members throughout the year.
ORKSHOP BENEFITS:
• A clear path forward for 2023
• An organizational vision template
• Goal setting that reinforces the organizational vision
• Motivation for all team members
• Defined organizational purpose
• Increased performance
• Heightened employee engagement
• Improved customer focus
• Greater work assignment efficiency
• Techniques for clearly communicating organizational vision
WHAT YOU WILL LEARN:
• How to create a dynamic 12-month organizational vision.
• How to consistently communicate the vision to all critical stakeholders.
• Best methods for helping team members understand how they contribute to organizational vision.
• Why organizational purpose and vision are critically linked.
• How to develop and periodically adjust KPIs that matter most to your vision.
• The intrinsic and extrinsic motivators that employees value.
Related Events